Kevin Le Gendre witnesses a stirring performance by the preeminent US pianist at Kings Place, London
Many artists have expressed ambivalence about the need to give titles to songs. The music is to be heard not named. Listening is what counts above all else. Vijay Iyer picks up the theme in no uncertain terms, by announcing, as soon as he arrives on stage, that he won't list all the compositions he's about to play, for his performance is more about 'how' than 'what.' The gambit does indeed give the audience a subtle prompt to focus on the evening as a kind of informal suite, comprising both originals by the pianist as well as arrangements of standards, known and not so well known.
The 50-year-old New Yorker, a vital presence in contemporary creative music since the 2000s, starts by stringing together a couple of potently contained pieces that duly showcase his signes particuliers; concise movement in the low register, with some short, throb-like lines acting as a kind of 'heartbeat bass'; probing melodic motifs that are enigmatic yet emotionally charged; right-hand variations that can be fragmented but soon find the driving fluency of a McCoy Tyner, which will later be emphasized by a buoyant reprise of "Night And Day."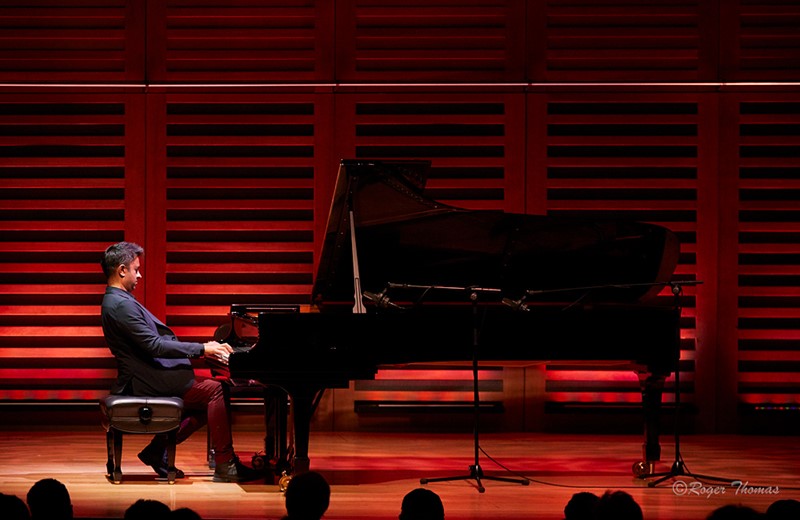 Yet it is an Iyer original, "Autoscopy," that raises energy levels by a flurry of catapulting percussive lines that change length and shape but nonetheless breathe by way of the slightest, most effective of rests. If that moment signals extravert momentum, then the fine reading of Billy Strayhorn's timeless "Blood Count" has a charmingly soft swing and a shade of celebratory wellbeing which belies its status as the swansong of an ingenious, hospitalized talent with too little time left.
Iyer's ability to draw out not so much telegraphic new meaning as thought-provoking possibilities from the work of others, which also extends to two Monk tunes, "Work" and "Friday 13th," is matched by his own "Abundance," a song with a tender, ethereal grace and romanticist clarity which might spark a debate on what constitutes something plentiful and to whom it belongs. The word could have many different connotations, but the notes create a feeling that is clearly satisfying.