Are you a musician that loves to perform live but struggles to book better-paying gigs?
From our Director, Katherine McVicker, who just happens to be the booking agent who created Norah Jones' breakthrough tour in 2002 and jump-started the European careers of Grammy award-winning artists like Esperanza Spalding and Richard Bona, Katherine created this program for career musicians to learn how to book themselves tours that build an audience, expand reach, and cumulatively bring in higher fees over time.
Without help from a booking agent.
That's right. MWI has distilled the decades of knowledge Katherine has gained booking successful tours and developed Anyone Can Book A Gig as an online course
We know making a career out of playing music isn't easy.
Realistically, you probably have barely enough time to focus on your music, let alone plan a tour, learn the industry's ropes, and deal with fast-talking, non-committal promoters. With everything else you have going on, there's either no time or budget to focus on building your skills in booking shows for yourself.
You wonder how the pros got to where they are and how you're expected to understand how to promote yourself, negotiate deals, create contracts, know what a good deal is or where you've been taken advantage of, and nabbed yourself a lousy deal. Or worse, you've been given a good deal for your situation, but you pass it up.
You need assistance, guidance, support, help. That's where this course comes into play.
"Consider this course if you are serious about touring your music. ANYONE CAN BOOK A GIG is excellent. I've been in this business forever, and I still learned a boatload and then some. Full disclosure, Katherine McVicker is one of my agents, and I know she knows the biz. Amazingly she's giving us all her tools and insights she's gathered over the years." LUCY WOODWARD, singer, songwriter, instructor
"It's a must read. The curriculum for Anyone Can Book A Gig is clear, easy to grasp, and insightful. In addition, the creators of this coursework have the necessary professional credibility representing the very best artists in music." JAVON JACKSON, Director, Jackie McLean Jazz Studies, Hartt School of Music
In the six-step program, you'll:
➽ Understand how to calculate financial deals in a partnership with promoters and build a relationship with a venue to increase your profit and grow your audience.
➽ Gain an in-depth understanding of all the component parts of a performance contract and the right way to negotiate it.
➽ Learn how to store, present, and organize your promotional material to make sure you look professional.
➽ Be able to use industry terminology when talking with other industry experts and advocate for yourself.
➽ Know all the real do's and don'ts of talking with promoters.
➽ Think outside of the box with our specialized techniques to market your music on and offline.
Our downloadable worksheets and templates help you:
➽ Pull together a Tour History – the #1 thing you need to have in order to negotiate higher fees with a promoter.
➽ Build your own professional and agency-approved performance contracts for local and international touring.
➽ Write a killer Artist's Biography – one of the most important assets in your toolkit.
➽ Keep track of your media and share your promo material all in one place with a Tour Assets sheet.
➽ Create your own boiler-plate press release for any event announcement or new music drop.
➽ Emergency and add-on contracting documents like broadcasting addendums, technical rider examples, invoice templates, and more.
➽ Accurately estimate show costs and build a tour budget.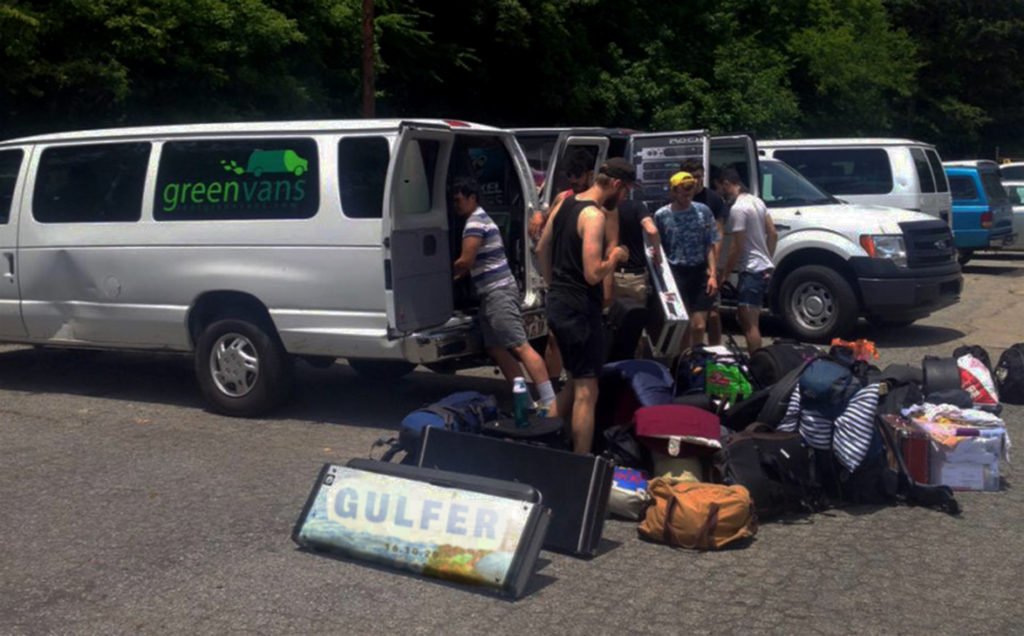 Go to www.anyonecanbookagig.com for more information.
PHOTO CREDITS  Anyone Can Book A Gig simulated textbook cover ** features "Bokanté, Union Chapel, London 2017" photograph by Tatiana Gorilovsky, courtesy of Bokanté/GroundUP Music. The background behind the books is "Snarky Puppy, San Jose, 2012" by Cynthia St. Cyr, courtesy of the photographer. Video thumbnail "Dhangsha and Bantu" by Amar Cura, courtesy of the photographer. "Gulfer/Greenvans" by David  Mitchell, courtesy of Greenvans. **Anyone Can Book A Gig textbook by Katherine McVicker/Music Works International will be published in 2022. "Anyone Can Book A Gig" is owned by Music Works International, trademark pending.