We asked the members of Bokanté to curate a playlist of "world" music, a genre most assuredly all-inclusive as they are.
For those who may not know who these Bokanté are, here's what we found out there, remixed from the bios GroundUP Music, their label, sent out.
Bokanté is a band project founded by Snarky Puppy's Michael League with singer Malika Tirolien. The sound is multi-cultural, multi-lingual, and multi-generational as Bokanté has this mix of West African music, Delta blues, and Led Zeppelin and Caribbean kaladja (with lyrics in Creole and French). The band name bokanté means "exchange" in Creole, the language of Tirolien's youth — as she grew up on the Caribbean island of Guadeloupe.
Take this playlist (link down below) out for a spin. Let's go crossing borders without looking back. Until that is, we wish to return.
We shaved down a few bios to give you a quick introduction to each band member who sent in their favorite tracks. And, to push you to a more profound experience through Bokante's world, if you so desire, there is a link for each selected artist they selected that can get you over to a webpage or Wikipedia listing.
Bokanté's next album will be released in the Autumn of 2023, and MWI is planning their next tour for the summer of 2024.

Keita Ogawa Hailing originally from Nagasaki, Japan, Keita Ogawa is a Grammy® Award-winning (Snarky Puppy) percussionist and drummer now based in New York City. After starting his drumming career at 15 in Tokyo, Kieta has since come to work with some of the biggest names in modern music, including Yo-yo-ma, Assad Brothers, Maria Schneider Jazz Orchestra, Romero Lubambo, and more. Currently, he works with several projects, Banda Magda, Bokantè, Camila Meza and the Nectar Orchestra, Clarice Assad, and Snarky Puppy.
Keita's selections
"Noche de Papel" – Puente Celeste, Canciones
"Lebnia" – Karim Ziad, Ifrikya
"Os Passistas" – Caetano Veloso, Livro
"I Speak Fula" – Bassekou Kouyate, I Speak Fula
"Antonia" – Paco De Lucia Cositas, Buenas
Malika Tirolien Originally from a musical family in Guadeloupe, Malika established a name for herself while attending the University of Montreal as part of the Kalmunity Jazz project, The Kalmunity Vibe Collective, and the Hip-Hop fused soul group Groundfood. She caught the attention of Snarky Puppy's Michael League as the lead in Cirque Du Soleil's La Nouba, performing on the group's Grammy®-winning release Family Dinner. She has toured her own critically acclaimed debut album, Sur La Voie Ensoleillée ("On the High Road"), around the globe.
Malika's selections
"Wassulu Don" – Oumou Sangaré, Timbuktu
"Safari" – Ali Farka Touré, Voyager
"Breathe Easy" – Sarafina, Breathe Easy
"Love" – Sarafina, Love
"Nterini – A COLORS SHOW" – Fatoumata Diawara, Nterini – A Colors Show
"Ondes of Chakras" – Dhafer Youssef, Ondes of chakras
Malika also picked the moving track, "Siyelele Mama" for you to explore that was only available on YouTube. YouTuber Oh Afrika described their upload of the track so: "Siyelele Mama," which translates to "We are under attack, Mother" (also known as "Sechaba" or "Nation" in English), is a beautiful, emotionally gripping Sesotho and isiZulu song from the powerful and significant movie, Sarafina.  https://youtu.be/JbzCmcDJpvE
Weedie Braimah A Djembist, Composer, Producer, and Folklorist of the highest caliber, Braimah has an almost insatiable knack for drawing entire audiences into his groove, zigzagging through Africa on a breathtaking rhythmic roller coaster. Braimah comes from a long lineage of drummers, including his mother, Ann Morris, a respected jazz drummer, and his father, Oscar Sulley Braimah, a world-renowned composer and master drummer. Braimah has been a performer, teacher, and preserver of African culture for over 30 years and continues to peruse new musical crossings every day. He also leads his own band, Weedie Braimah & The Hands of Time, where he mounts the Djembe as the frontage presenting music of the diaspora.
Weedie's Selections
"Bukom Mashie" – Oscar Sulley Braimah, Bukom Mashie / Disco Africa
"Mamady Lee" – Mamady Keita, Mamady Lee
"Bombe" – Mbaye Dieye Faye, Songa Ma
"Vale todo" – Los Muñequitos de Matanza, Vacunao
"Weediefoli" – Weedie Braimah, The Hands of Time
Bob Lanzetti Bob is a three-time Grammy® Award-winning Brooklyn-based professional guitarist, composer, and educator. He has performed and recorded with many artists throughout the NYC area as well as played in over 40 countries with the jazz/funk collective Snarky Puppy. While attending the University of North Texas, Bob got involved in the thriving R&B and gospel music scene in the DFW area, where he would also meet the musicians who would go on to form the core of Snarky Puppy. Since 2006 Bob has resided in Brooklyn, where he has become an in-demand session guitarist performing and recording with many artists across styles of music. He recently released his debut album, Whose Feet Are These That Are Walking, featuring his original compositions.
Bob's selections
"Kabir" – John McLaughlin, Zakir Hussain, and Shankar Mahadevan, Kabir
"Ngoma Yarira" – Hallelujah Chicken Run Band, 4-Track Recording Session (Analog Africa No. 1)
"No Buredi (No Bread)" – Fela Kuti, Unnecessary Begging
"Adieu Pierette" – Boubacar Traoré, Boubacar Traoré
"Dhun (Dadra and Fast Teental) – Live" – Ravi Shankar, The Ravi Shankar Collection: Live: Ravi Shankar at The Monterey International Pop Festival
Jamey Haddad Born in Cleveland, Ohio, percussionist/drummer Jamey Haddad holds a unique position in the world of Jazz and Contemporary Music. Haddad's musical voice transcends styles and trends, and the universal quality of his playing has attracted many international collaborations. Regarded as one of the foremost world music and jazz percussionists, Haddad is a professor at The Oberlin Conservatory and the Cleveland institute of Music and previously for 18 years at Boston's Berklee School of Music and NEC. Jamey has been awarded Fulbright Fellowship, a Cleveland Arts Prize, 3 NEA Grants, and a Cleveland Jazz Legend Award. He regularly collaborates with Paul Simon, Simon and Garfunkel, Sting, Osvaldo Golijov, Yo Yo Ma, Dawn Upshaw, Esperanza Spalding, and more.
Jamey's selections
"Miracle of the Fishes" – Wayne Shorter, Native Dancer
"Merhba Bik – Ifrikya" – Karim Ziad, Chabiba (Ifrikya)
"For Those We've Known" – Billy Drewes, Under One Sun
"Blue Flame" – Simon Shaheen, Blue Flame
"Assouf" – Steve Shehan, Assouf
Michael League Michael is a three-time Grammy® Award-winning bassist, guitarist, producer, composer, arranger, songwriter, label owner, studio owner, and bandleader. He attended the jazz studies program of the University of North Texas, then spent three years in Dallas, where he worked with some of the most influential figures in modern gospel, R&B, and soul. Michael runs the instrumental music ensemble Snarky Puppy, whose grass-roots approach to the changing music industry has met major critical and commercial success as well as more than a few Grammy® Awards. He has also worked with artists like David Crosby, Kirk Frankline, Terence Blanchard, and Salif Keïta, to name only a few. He currently lives in Spain and is producing albums for a multitude of independent artists.
Micheal's selections
"Maymouna" Hamid El Kasri, Sourées Gnawa Neurasys Remaster, Vol. 1
"Beyaz Atli" – Kardes Turkuler, Yol
"Picture" – The Secret Trio, Three of Us
"Os Passistas" – Caetano Veloso, Vivro [Yes, Micheal and Keita picked this track, so here it is again for a listen after quite a bit of other music. How does it sound this time around? The same or intimately different?]
"Valentin" – Susana Baca, A Diva Voz, Vol. 1
Chris McQueen Chris plays guitar in the 3-time Grammy® winning band Snarky Puppy, the gritty instrumental quartet Forq, and indie rock band Foe Destroyer. Additionally, he has worked as a sideman for a diverse range of artists as well as being featured in several rock musicals, most recently David Bowie's Lazarus at New York Theatre Workshop and The Rocky Horror Show at The Dallas Theater Center. He became interested in jazz at 13, which led him to study with Fred Hamilton at the University of North Texas before getting involved in the Dallas R&B/jazz/gospel scene. In recent years, Chris has recorded and toured with his new rock band, Foe Destroyer. Chris lives in Austin, TX with his wife Erin and their twin baby girls.
Chris's selections
"Amidinine" – Bombino, Nomad
"Del Sol, a 18 Minutos" – Los Pirañas, La Diversión Que Hacía Flata en Mi País
"Healing in the Balm Yard" – The Ticklers, Mento Mania Vol. 1
"El Balaju" – Mariachi Cobre, Mariachi Cobre: Mariachi Cobre
"Junun" – Shye Ben Tzur, Jonny Greenwood, The Rajasthan Express, Junjun
Earlier in our Listen Up! Series, we had Bokanté's Roosevelt Collier compile his playlist of Pedal and Lap Steel you-really-need-to-hear tracks. His playlist also roams through many genres, so you can keep moseying around this globe with another three hours (!) of music curated just for you and me.
Check out Roosevelt's tracks below.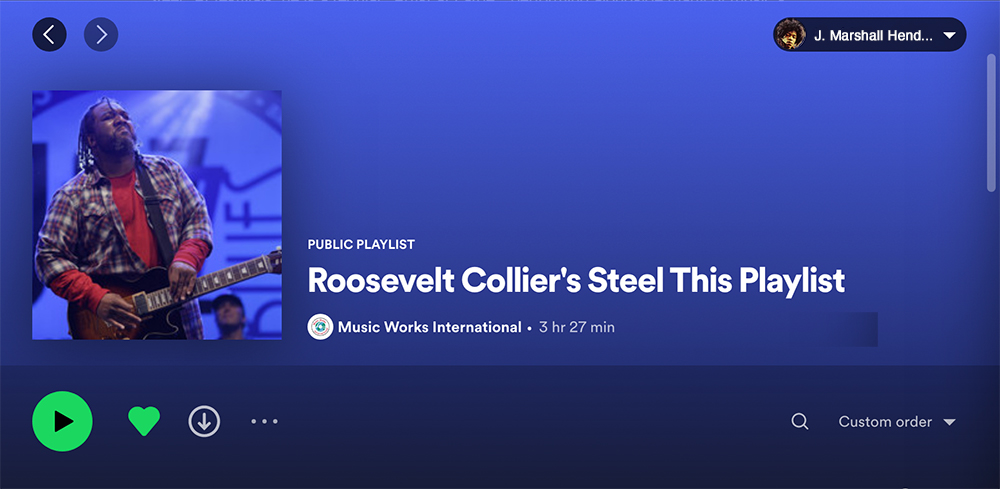 >> Bokanté's World (selects) on Spotify
>> Roosevelt Collier's Steel This Playlist
>> Music Works International on Spotify
>> Bokanté on MWI
>> on YouTube
>> on Spotify