First Annual Cultural Connections Africa (CCA) Members Conference
October 04-09, 2021. The Venue in Avondale. Harare, Zimbabwe.
How Can We Partner Together to Strengthen Africa's Growing Creative Economies?
That's the question the CCA and this conference aim to answer.
The CCA is thrilled to partner with Walter Wanyanya's production company, Ngoma NeHosho, and the Jacaranda Festival to present an opportunity for our members to network with one another and participate in initiatives and discussions that will grow and develop capacity for the creative economy in Africa.
Cultural Connections Africa – SA, a Non-Profit Government entity registered in South Africa, is an inter-African network of music, dance, and cultural arts professionals focused on collaboration and cultural exchange across the African continent and with other international partners. The mission of the network is to connect music industry professionals with cultural stakeholders to share resources, create innovative solutions to address common challenges, provide peer-to-peer mentorship, offer professional development, and foster economic growth for communities through culture.
The purpose of the first inaugural Cultural Connections Africa (CCA) Summit – Harare is to bring members of the CCA's guild of 25 experienced music industry professionals and cultural arts stakeholders from 14 African countries to Harare this October to interface around the decision-making processes and innovations that will shape the future of music on the African continent.  The conference will create a platform on which to develop and grow upon the CCA's ongoing efforts to bridge gaps across regions of Africa's cultural arts eco system by connecting the individuals, artists, organizations, and countries the CCA and its members represent. The four-day hybrid (in-person and virtual) event will invite participatory dialogue between CCA members, government stakeholders, and the general public through its program of Conference Sessions, Networking Meetings, and Public Workshops centered on growing Africa's creative economy.
Ngoma NeHosho, a growing figure in Harare's cultural scene with a record of partnering with local and international artists, government, and commercial entities to host a range of successful events in the Southern African region, will produce and host the first annual Cultural Connections Africa (CCA) Summit. The conference will coincide with the fourth rendition of Ngoma NeHosho's Jacaranda Festival, a 3-day music and arts festival in Harare that attracts over 10,000 people. The CCA Summit will also serve as an in-person follow-up to the virtual artist development workshops for industry professionals held during Ngoma NeHosho's Jabulani Jazz Festival in April 2021, which was produced in partnership with UNESCO, Hyundai Zimbabwe, Old Mutual, and CredSure. Ngoma NeHosho will leverage upon continued support for the CCA from the US Mission to Zimbabwe, UNESCO, National Arts Council Zimbabwe, and other government, non-profit, and commercial entities to produce this event.
As professional organizations with prominent membership and many active ties to the government and corporate entities vested in the arts, Ngoma NeHosho and the CCA are in a privileged position to facilitate this conference and act on its outcomes by developing innovative programs that will support and enable the mutual growth of African artists and presenters and the wider cultural sector for many years to come.
Monday October 04
10AM – 4PM CCA Member Sessions
Tuesday October 05
10AM – 4PM CCA Member Sessions
5PM – 7PM Connect Africa Exclusive Preview Event
Wednesday October 06
10AM – 4PM Jacaranda Festival Workshops
11AM – 12:30PM Music Works International Presents: Anyone Can Book a Gig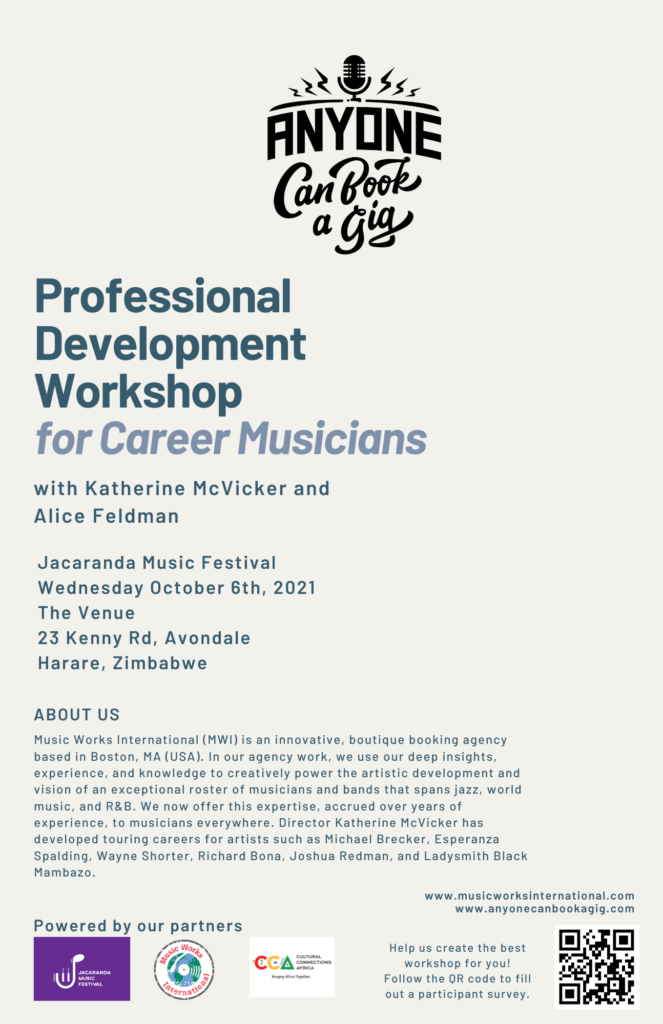 Thursday October 07
10AM – 4PM Jacaranda Festival Workshops
Day Excursion – Imire Rhino and Wildlife Conservation
Friday & Saturday October 08-09
12PM Anyone Can Book a Gig (Part Two) – Feedback and Consultations
4PM – 10PM Jacaranda Festival Live Performances
More CCA Conference details here