The acclaimed jazz singer had to channel the power of being herself for her vocal contributions to the film.
The lead soloist for the score of 'The Woman King' flew all the way from the United States to Scotland without so much as a script or music sheets to accompany her. Five-time Grammy-winning jazz vocalist Dianne Reeves had no idea what notes she was going to sing until she pulled them from her gut and thrust them into the air of the recording studio. All she knew was that producer Terence Blanchard wanted her and only her.
"I remember going to Scotland and not quite knowing exactly what he [Blanchard] wanted me to do," Reeves said. "And he looked at me and said, 'I just want you to be you.' And I was like, 'oh my God,' there's a space outside of the stage to be in a position like this."
"I can walk on the stage with shoes that hurt, and when I walk right on the stage, my feet stop hurting because now I'm going out to do this thing that I am connected to that is greater than I am," Reeves explained. And 'The Woman King' recording studio felt no different to her. "It felt like the most comfortable place because that's how I feel on stage, you know, that place where I'm connected and I just allow my feelings to be front and center."
With the title screen glowing on the wall behind her, director Gina Prince-Bythewood told the story of the Agojie, an all-female military regiment saddled with the responsibility of protecting the African kingdom of Dahomey. The pair swung from triumph to tragedy, sewing personal anecdotes into the film's narrative until they struck a chord: protagonist Nawi loses her sister figure in battle.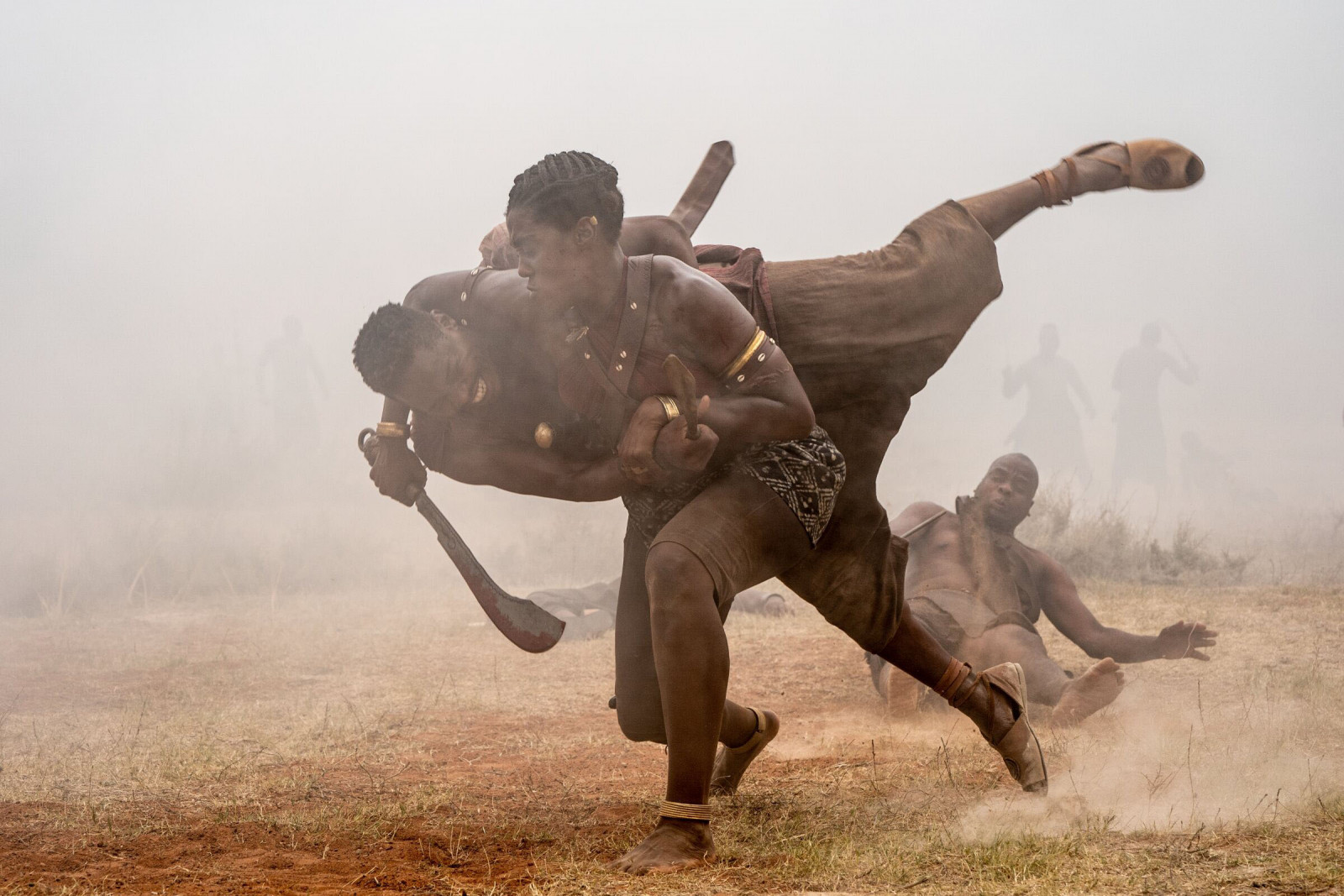 Reeves explained, "she [Prince-Bythewood] told me one story, and I'm telling her that this particular story just happened in my life with my sister, and so we're going back and forth. Now my emotions are at an all-time high."
Reeves' gaze focused on the screen against the wall where Prince-Bythewood showed her scenes from the film to prompt her vocals. Watching the saliva pool from Nawi's lips as she screamed in grief, Reeves pushed her voice into the microphone until the vibrations shaking between her vocal cords became the heartbeat of an ethereal belt.
Yes, Reeves' vocal contributions were entirely improvised.
The improvisation process was not new to Reeves, however. Improvisation lies within the essence of jazz as an art form. To improvise successfully, Reeves needed to fully immerse herself in the moment and let the sounds take on a life of their own. It was organic.
"You're raw," Reeves said. "There's really no time to edit or doubt. You just feel what you feel in that moment and let it go. And so every time I would just trust myself, just do it. You hear the harmonies, you know what to do, just do it. I wouldn't even think. I only felt my way through this movie."
Without singing a full word throughout the entire score, Reeves' voice embodied the emotional journey of these women. Through a series of guttural sounds and exacting chord progressions, her voice simulated language while remaining otherwise wordless. The only moments in the entire score that contain lyrics are those filled with the cumulative chants of the Agojie warriors.
The Agojie battle cry consists not only of the whoops and screams of determined warriors but concrete chants of sworn sisters rallying each other to fight for Dahomey's freedom.
"Blood of our sisters! Make us invincible! You live for me, and I for you!" Donned in white with grins glued to their cheeks, the newest warriors partake in a blood oath to initiate becoming official Agojie. The power of this moment lies not only in the sung words themselves but in their collectivity. Each warrior's voice stacks on top of her sister's as she takes the oath. Rejoicing in their triumph, their voices ring out in chorus in a way that feels reminiscent of ancestral gospels.
For Dianne Reeves, a battle cry pulls directly from the deepest emotions that live within the core of a determined people. "It's just letting go of what is inside and just letting it, whatever it is, into the universe, letting your emotion just rise without even thinking about it, letting it out," Reeves said. "When I listened to them, whatever they were dealing with, they had a purpose. They had destruction, they had determination, they had all of these kinds of things that they needed to work together in sisterhood."
As humans, we rely on sound to communicate with one another, yet, distinguishable words are not the only vehicles of meaning. The sounds that Reeves made in the studio blended with feet stomping the ground, swords clashing against armor, and hands clapping other hands. Together, this confluence of sound emanates the emotional lifeblood of the Agojie experience solely through the power of vibration.
Reeves traces her connection to vibrational sounds back to her childhood intergenerational home. "Growing up and knowing the difference from when she [her grandmother] said 'mmm' to me, or 'mhmm,' those are just sounds, but I knew in the moment what they meant," Reeves says. "That is the thing that I felt that they wanted in this film."