By Steve Baltin for Forbes
An eight-time Grammy winner, Christian McBride is one of the most celebrated jazz artists of this century. There is a reason readers of the prestigious jazz magazine DownBeat voted McBride artist, bassist and producer of the year.
So when McBride releases a new album, it is an event in the jazz world. He and his New Jawn — trumpeter Josh Evans, drummer Nasheet Waits and saxophonist and bass clarinetist Marcus Strickland — have just released their second collaboration together, Prime.
Sage Bava and I spoke with McBride about the new album, his advocacy for educating kids about jazz, why America is behind many other countries in supporting the arts and the essential albums for anybody trying to get into jazz.
Steve Baltin: Congratulations on this wonderful album.
Christian McBride: Thank you. Glad you enjoyed it.
Baltin: Did you find, as you started working with the New Jawn for a second time, that your shorthand with them just improved immensely and you guys just know each other so much more in this one?
McBride: Yeah, I think that happens with most musicians after you play with them for a while. We started playing together in December of 2015. So this is our seventh year playing together, seventh full year playing together. So yeah, we tend to know each other pretty well by this time.
Baltin: So were there moments on the record early on where you realized that you had found that groove?
McBride: We found that long before we started making the record. I don't know when that happens, but yeah, at some point, just like you are with a person, you develop a friendship, you develop a relationship, and you feel what the other person's going to do. With some people it takes longer than others. Sometimes it's instantaneous, sometimes it takes a few years. But, when you've played together pretty regularly for as long as we've played together, I can't put my finger on when that happened, but it certainly has happened.
Sage Bava: I read in the New York Times article, Pat Metheny said, you just have this knowing and going off this trail of thought that we're on. Would you say that's true of all great jazz musicians?
McBride: Well, Pat was very kind in those words. I don't know if all jazz musicians have that. First of all, I'm not sure if he was entirely accurate about that. [But] I'm honored he feels that way. But, yeah, there are moments when I look at music or when I listen to music and it might take me some time to sort of absorb it so I know what proper decisions to make. But I do feel like most good musicians try not to just focus on their part, but they also try to see the big picture. They know what their role is in the picture, but they know what the big picture looks like. So I do my best to do both all the time.
Baltin: I started thinking about someone like a Carlos Santana or a Tom Morello, both of whom are amazing at collaboration and I wonder if it's something that applies to just people who are really open to the art of collaboration in general.
McBride: Oh, yeah. First of all you have to be selfless, there's a fine line between being confident and knowing where the music can and maybe should go. But empathy is probably the most important element of any good artist. You have to be able to put yourself in the other person's shoes, what might they want? And if you don't know, you should ask before you go suggesting where you think the music should go or if you want to play where you think the music should go. Just have your antenna up ready for someone to say, "I kind of don't want to go there." And you should be okay with that. So that's where the empathy comes in and the selflessness.
Bava: I have such respect for all the advocacy that you do for the arts, like the Jazz House for kids and the Sarah Vaughan competition. What is the biggest pieces of advice that you give young musicians? And also, it seems like with all of the incredible jazz musicians that we've talked to, this inner knowing just keeps popping up and how that's just important when you're an artist in general. What are the things that you would say to that?
McBride: Music is a language and this language of jazz is, at this point, a very old language. Not nearly as old as some other traditions around the world but we're talking over a century of language and history that should be learned. So my advice to younger musicians is to always get as much information from as many people as possible. You see all these albums behind me. I've done my best to try to listen to as many of these albums as I can in my lifetime because you get inspiration from those albums. You get information from those albums, keys to locked secrets lie in those albums. Instead I feel like a lot of younger musicians always thought, "Oh, you should just find your own thing." Well, that's a lot easier said than done. Miles Davis said it himself, sometimes it takes a long time to be able to play like yourself. So you've got to go through a lot of different stages of development. So you can't just naively say, "Oh, this is what I do and then stay there." You've got to find out this is a big world. A lot of great musicians have played a lot of great things in a lot of different genres. I would say try to learn as much from as many people as you possibly can all the time.
Baltin: As an intro to jazz what are the three albums that people need to start with?
McBride: I think most people can agree that Kind of Blue has to on the top three. That seems to be the record both non jazz fans and jazz fans alike can agree is a great album. But it also depends on what your main thing is. If you like folk music you might want to back into jazz via some guitar album, maybe Pat Metheny's debut album. Or if you come from blues you might want to listen to an organ record as one of your top three. So it's hard to say what the top three are but I will say Miles Davis' Kind of Blue is probably the safest bet.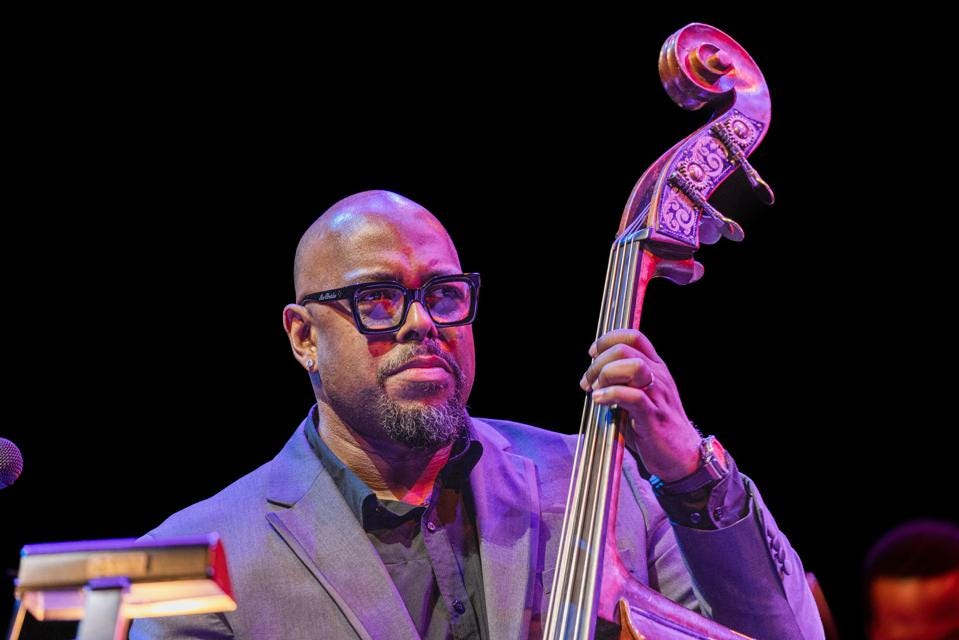 Baltin: Was there one record early on that changed your life?
McBride: Yeah, I remember hearing the Quintet, Charlie Parker, Dizzy Gillespie, Bud Powell, Charles Mingus, and Max Roach. An album called Jazz At Massey Hall, Massey Hall is in Toronto. And that record was made in 1953 and I had heard a lot of jazz records up until that point, but I don't know what it was about that album that kind of sealed the deal. My great uncle played a bunch of jazz records for me and I liked almost all of them. But that Jazz At Massey Hall album really sealed the deal. It was probably because of Dizzy Gillespie. He was someone whose name I already knew as a kid. He's one of the great all-time ambassadors of this music. And I had seen him on The Muppet Show as a kid, so I knew who he was and just to hear his playing and feel his personality through that album, that made me fall in love with jazz forever. And how awesome The Muppet Show asked him to be on there. You've never seen too many jazz musicians on shows like that actually doing what they do. So, that was memorable.
Baltin: If you could be on The Muppet Show playing, who was the Muppet that you wanted to hang out with?
McBride: I was more of a Sesame Street guy than The Muppet Show. But my favorite Muppets were actually the two old guys in the balcony. Fozzie Bear was cute. But yeah, the two old guys in the balcony, those are my dudes. Crusty old people. I don't think I love any group of people more [laughter].
Bava: I'm glad we're on this train of thought, jazz and kids. So my sister is looking to start a Forest School, which is basically letting kids improvise in nature to learn. And with jazz being the tremendous teaching school as said on your website something that I've been thinking a lot about is why aren't there more jazz for kids projects whether that be artist projects or spaces like you have. Tell me more about the inspiration behind starting this and what you hope the future for it is and music and inspiration on artists getting involved with kids and using jazz as the tool that it is.
McBride: Thank you for that question. Jazz House Kids, I give 100 percent credit to my wife. My wife, Melissa Walker, is the founder of Jazz House Kids. She's a vocalist in her own right. She sang on my first two big band albums, as she had a string of albums of her own in the '90s. But she had gotten a call to do a master class for some elementary school kids in Newark, New Jersey. And she said that she was scared out of her mind. Elementary school kids, we're talking five, six year olds, probably no more difficult an audience than five and six year old kids. And, so she was trying to think of some sort of a theme that she could garner their interest in. And so she came up with, let's build a house using jazz instruments. So she asked the kids like, "Okay, if we're going to build a house, what's the base of the house?" Is it the drums or is it the bass? And what goes in the bedroom? What instrument represents the kitchen? What instrument represents the living room?" So these kids had a wonderful time figuring that out. And after it was over, apparently these kids fell in love with her. She fell in love with them. And right around that time, there were a number of public schools in Essex County that started to get rid of their music programs. No surprise there, it always happens. And so she smartly realized this is an opportunity for me to start a foundation to really teach kids about life and democracy through jazz education. So that's how Jazz House Kids got started officially in 2003, 20 years ago. Exactly. Melissa and I got married in 2005, and I've just been doing my best to help build this organization as much as I can. And some of our former students are some of the leaders in jazz right now, like Emmett Cohen, Emmanuel Wilkins, Isaiah J Thompson. So we couldn't be any happier and more proud of this organization. But to answer your question of why we don't see more of this, unfortunately, the great irony in jazz is that it is loved and respected everywhere else except where it was born. Most jazz musicians, if you go to Japan, you are greeted at the airport as if you are an NBA all star. If you go to South America, they think of you as this very important ambassador of culture. Whereas in America, you are viewed as someone who doesn't make a lot of money. That's all that tends to matter oftentimes when it comes to education in this country. What's important, is what they think will make money. And arts doesn't exactly make money unless you know how to hustle and raise money, and get a nonprofit, go out and find donors and benefactors, and then like, "Oh, great, you found your American hustle, congratulations. But we're not going to help you on that. You're going to have to do that on your own." So you go to places in Europe, they have government funded big bands. They have the NDR Bigband, the WDR Big Band, because they realize that a culture that doesn't involve music, visual art, dance, poetry, is a very heartless society and a heartless culture. And oftentimes, that's what America has proven itself to be. We love money. We love being cute. We love people telling us we're important, but it's often heartless. There's not a lot of soul in it.
Baltin: So what do you think can be done to change this and make it better? Because what we are seeing is, and Sage has commented on this many times, a return to natural instruments, and people want that.
McBride: Well, I hope so. So many of these conversations about what can be done to make jazz more popular, I don't really believe I could add on to the many good answers that have been given to that question over the last probably 50 years. But, I believe those of us who know, we have a duty to teach the younger people. I'll tell you something else that you see in other cultures around the world, they bring kids to the gig. I love going places where you see parents bringing their 13 or 14 year old kids to the show. They don't like it, but you can guarantee at some point, that performance is going to stick in their mind. They really hold their young people's hands in exposing them to different forms of non-commercial music and so I think it starts in the home. Those of us that know we've got to teach our young people.
Bava: And who are some of your favorite artists now that you feel are doing that?
McBride: I can honestly say that almost everyone that I know of who comes from my generation. One thing that's new are jazz institutions. Places like Jazz in Lincoln Center, SF Jazz, Jazz St. Louis, where you have this, a board and a group of people that get together and they buy a building, and they institutionalize jazz. Now, I know a lot of people will have a big problem with just that phrase alone. But it's a place where working jazz artists are guaranteed a place to work. Now I know there's been some tension in who decides who gets to work there. But the truth of the matter is, those things didn't exist 40 or 50 years ago, and most of the people that run these institutions, at least from the artistic standpoint, tend to be musicians. Joshua Redman did some amazing work at SF Jazz, then he passed that on to Miguel Xenon, who has been the leader of the SF Jazz Collective. Probably no one more celebrated than Wynton Marsalis in terms of what he's done with Jazz Lincoln Center. People like Victor Goines to now run Jazz St. Louis. There are a lot of musicians in positions where they can make some difference in terms of the education, the structure and for lack of a better word, the institutionalization of this music. So there's a long list of people who I can name, but those are just a few that I can think of.
Bava: What have been the things that have helped your artistic development and contributed to the arc of your career?
McBride: Staying curious and always practicing. Now there's different ways of doing that. As a bass player, I realize I have the opportunity to receive calls just as I have to make calls. I can call up any group of musicians to say, "Hey, let's put something together and let's jam." But also as a bass player, I'm probably going to get a lot of those calls. So it has always been my MO to really stay curious and to play with as many people as I possibly can, because I have this pragmatic way of thinking. As a musician, you write your own music, you got your own band, of course you sound good playing your own music in your own band, but how well do you sound in someone else's band playing their music on their terms? That to me is what defines a really good musician. If you can kill it on somebody else's turf under their rules, and they look at you and they go, "Oh, damn, they got this," then everybody's going to work with you all the time.
>>Christian McBride on Youtube