Every so often a new vocalist blows everyone on the jazz scene away with their distinctive style, charm, and dexterity.
Samara Joy is that new voice that's giving new purpose to the music. Last year, the 22-year-old put out her self-titled album debut; since graduating from college, she has also performed in Switzerland and Paris. (Her live performances are just as breathtaking as experiencing her on wax. For many musicians that's not so easy, but she does it effortlessly.)
Touring internationally has sharpened her skills. There's plenty of evidence of that musical maturation on her new recording Linger Awhile, a nostalgic stroll through well-known and obscure standards. One trait she carries on from her last album is the mixing of swing and sweet tunes. The romantic feel she infuses into songs would make any loving couple want to hold each other while listening to her sing.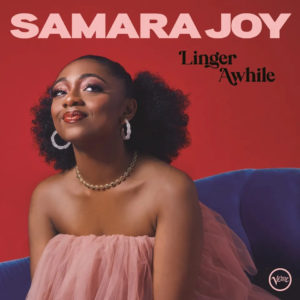 Joy gracefully takes listeners through the sassy "Sweet Pumpkin," featuring guitarist Pasquale Grasso, whose handy work on the strings is also prominently featured on the album. On "Guess Who I Saw Today," she draws listeners in with her knack for convincingly telling a love story through song.
She also takes on the longstanding vocalese tradition on "Nostalgia (The Day I Knew)" and "I'm Confessin'," which combines her lyrics with Lester Young's 1952 solo. (It's worth noting here that her songwriting acumen is equally arresting as her singing.)
Joy's primary aim in making this beauty was to further perfect her poetic vocals on songs that have deepened with time. There is much to be admired on Linger Awhile.