The Grammy winner shares what's in store for the season-long residency, featuring collaborations with Francesco Turrisi, Our Native Daughters, and Silkroad Ensemble, launching October 15.
With her spectacular banjo and fiddle playing, passionate vocals, and perceptive songwriting, Rhiannon Giddens embodies a boundless curiosity that explores untold stories and reclaims American musical traditions. Throughout her Perspectives series, she sheds light on the shared history of a variety of performance traditions around the world, explores the complex history of Black influence in American music, and more. She's also the new artistic director of the Yo-Yo Ma–founded social impact organization Silkroad and its Grammy Award-winning ensemble.
In advance of her season-long residency at Carnegie Hall, which launches October 15 with a concert with singer-songwriter Francesco Turrisi, Giddens discussed her varying programs and the commonality that unites them all.
What is your intention—what do you want to musically achieve—through your upcoming residency?
Giddens: What I'm hoping to do with my Perspectives series is to continue the conversation around the dissolution of false boundaries. All the different points I'm exploring really support the notion that boundaries are artificial.
You start with When I Am Laid in Earth—two concerts in Weill Recital Hall with Francesco Turrisi.
Francesco and I have this desire to break down boundaries between vernacular and classical music. When I went to conservatory, I fell in love with art song and the idea of taking three to five minutes to tell an entire story. That experience doesn't have to be limited to classical music. We've been experimenting with pop songs from the 1960s in Italy—and when you break it down to just the voice and piano, a whole other thing comes out of it. On the other side, you have something like Purcell or Monteverdi, who basically wrote pop songs hundreds of years ago. We're essentially creating this hybrid space where a pop song from the '60s can exist against a pop song from the 17th century.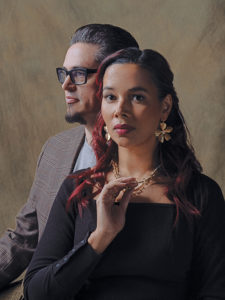 Moving to the main hall, you reunite with Our Native Daughters for a program that reimagines our collective past and creates new stories for our time.
It's a collaboration between four Black women who also happen to play the banjo and are songwriters. Together, we're looking at the history of the Americas and where Black women fit into that. How do we as modern Black women who have these ancestral ties to the people who came before—and the hardships that they went through—respond to that as artists?
You also include a performance drawn from your recent album They're Calling Me Home, again with Francesco Turrisi.
They're Calling Me Home was our pandemic record. It was a real meditation on how different cultures look at death and loss and home. Francesco and I are both from different cultures—he's from Southern Italy, my family is from North Carolina. We're both now living in Ireland, which is where we were during lockdown. While there, these deeply traditional songs from both of our backgrounds started coming into our consciousness, wanting to be sung and played.
Heightening the intimacy, They're Calling Me Home will be performed in a center-stage configuration of Zankel Hall.
I love the idea of center stage. Playing in the round shakes you up as a performer. We're so used to "us versus them." Surrounded by people, there's nothing to hide.
Your series concludes with women and non-binary members of the Silkroad Ensemble, connecting the music of indigenous North America to the world in a program titled Indigenous Connections.
When I recently came on board as artistic director of the Silkroad Project, I really wanted to connect the Silkroad to music in America in a way that felt organic and natural. One of the things that annoys me is how we position our music as separate from the world, forgetting the indigenous music that was here first.
Your career has always focused on building bridges between the past and the present—to explore why and how we have arrived where we are today.
People continue to build on the legacies of those who came before—it's something that's been part of my journey and my story for a long time. I'm excited about all of these programs. Where else but at Carnegie Hall could I explore the different aspects of my art and musicianship in one season?