There's an abundance of fascinating material in Nduduzo Makhathini's new recording, In the Spirit of Ntu. The distinguished South African pianist and composer has been releasing excellent albums, touting a blend of mature post-bop and deeply rooted African jazz currents that transfixes as much as marvels. For his 10th album as a leader, he draws inspiration in Ntu, an ancient African philosophy centered on collectiveness, and gathers a killing group to back him on another rewarding spiritual journey.
Makhathini infuses an impetuous and majestic Afro-centric pulse on the opener, "Unonkanyamba". The laid-back posture of the horn players against this rhythmic verve creates an infectious polyrhythmic feel. Gliding atop the texture, the soloists succeed one another. The confident tenorist Linda Sikhakhane is followed by Makhatini, whose taste in the note choices is both disconcerting and beautiful, and then by trumpeter Robin Fassie Kock, who invites us to search while posing as narratively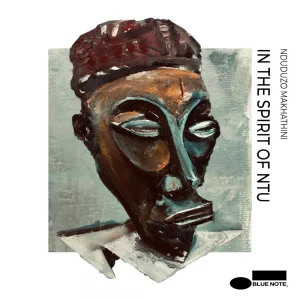 sober. "Amathongo" is motivated by Zulu traditions, a component that is not so strange if we take into consideration that the bandleader's hometown was a Zulu kingdom. The bass figure that drives the piece is renewed at every 16-beat cycle, having a shimmering stream of percussion echoing throughout.
Guest vocalists Omagugu (Nduduzo's wife) and Anna Widauer shine on "Mama" and "Re-Amathambo", respectively. The former tune is a resplendent intersection of cool modal jazz and African spiritual balladry delivered with a three-time flow; while the latter, a rework of a tune originally included on his 2018 album Ikhambi, is sung in English by the abovementioned Austrian singer and revolves around a twinkling modal vamp and chanting riffery.
Powerful choir-like chants and darkly hued tenor sounds populate "Senze Nina", a prayerful ballad in five that is intended as a meditation on the renewal of a South Africa marked by the violence of apartheid and gender-related hostility. Also painted with darker shades, "Nyonini Le" nods to Zulu princess Magogo kaDinuzulu and Monk's music alike, whereas "Emlilweni", a modal effort in six, guests American saxophonist Jaleel Shaw, whose fluid post-bop idiom with plenty of outside contractions dominates the spotlight.
Makhathini marvels, daubing his music in color and rhythm, liveliness and poignancy, spirituality and emotion. In the Spirit of Ntu is not to be missed.