★★★★★ Five Stars
The Stravinsky-inspired music that Jim McNeely wrote and arranged for Chris Potter to perform with the Frankfurt Radio Big Band has risen to the top of the class among this year's contemporary large jazz ensemble releases. Rituals, which was recorded in studio in 2015 following its original commissioned performance at the Alte Oper Frankfurt's Stravinsky Festival in 2013, finally emerged on Double Moon Records (part of the Challenge Records International catalog) early this year and reveals a major jazz-meets-classical breakthrough by principals McNeely, who's spent a large portion of his career working with American big bands (notably the venerable Vanguard Jazz Orchestra) and European radio bands; Potter, a virtuoso jazz tenorist with a hyper-extended range and endurance-runner chops; and the Frankfurt Radio Big Band (a.k.a. hr-Bigband), one of Europe's finest government-funded large jazz ensembles.
The first six tracks of Rituals constitute McNeely's original suite of new compositions inspired by the tonal language of Stravinsky's "Rite Of Spring." The ensemble executes the rhythmically complex and harmonically advanced score with passion and sensitivity, not to mention technical precision and the power of symphonic proportions. The group's orchestral palette is enhanced by the presence of a harp, french horn, percussion, and a timbre-rich world of expert-level woodwind doubling (flutes, piccolos, clarinets, and bass clarinets) that further evoke the tonal language and textures of "Rite Of Spring." Potter, the star of the show and the featured soloist throughout, gets deep inside the material and supercharges it with a seemingly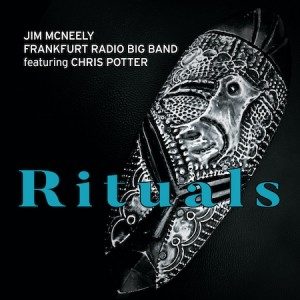 inexhaustible wealth of invention and intensity — to the point of sounding like his horn might burst wide open and spill out the tornados of sound swirling inside of it. McNeely gets credit not just for masterminding all this, but also for his highly detailed, conscientious work orchestrating the material in a manner that suits Potter's style, honors an important historical legacy and poses a worthwhile challenge to one of today's most esteemed jazz big bands.
Following the conclusion of the Stravinsky-styled suite, the remaining four tracks on Rituals are Potter originals re-arranged by McNeely for the hr-Bigband. These include "Dawn" and "Wine Dark Sea" from Potter's 2013 CD The Sirens, "The Wheel" from his 2006 recording Underground, and "Okinawa" from the 2001 live album This Will Be. Potter plays equally hard on this second portion of the program, with additional solo support from hr-Bigband reed-section players Steffen Weber, Tony Lakatos, and Heinz-Dieter Sauerborn and trumpeter/flugelhornist Axel Schlosser establishing a more conventional, but by no means less thrilling, jazz big band vibe. Rituals is a fascinating listen, a dramatic homage of breathtaking breadth and sophistication that succeeds on every level.