NORTH ADAMS — Credited as the first ragtime composition, pianist Tommy Turpin wrote "Harlem Rag" in 1892, a full 75 years after the New Orleans city council established the "Congo Square," an official site for slave music and dance.
By 1899, the year Duke Ellington was born, America was in an argument about jazz. Some cultural pundits argued jazz wasn't music at all, or would ruin music as they knew it; jazz was somehow dangerous to both music and society. 100-plus years later we recognize this for the dog-whistle it was — it was scary because it was Black.
The jazz styles known and loved today developed slowly across long stretches of time, rising from the fields as enslaved peoples improvised sound and song in order to remember their homes and histories. By 1946, the year The New Republic magazine called jazz "the only original American art form," several forms of the genre had emerged including early jazz; New Orleans & Chicago Style; Dixieland, which developed into Swing; and Big Band with Bop coming up behind. These movements and styles are still developing today. To the benefit of the culture-at-large, jazz is an art form that refuses to stay in its own lane. Many visual artists credit jazz for influencing their work, including Romare Bearden, Stuart Davis and Jackson Pollock. And — of course — there's the endless portraits visual artists have created of jazz greats, like Louis Armstrong, Ella Fitzgerald, Sarah Vaughan and so many more.
For artist Jason Moran, it is his own work as a pianist and composer that led to his visual art. Moran's two-gallery exhibition, "Black Stars: Writing in the Dark," on view at the Massachusetts Museum of Contemporary Art through November 2024, acts as an insightful bookend to his central work as a musician. The first room is 2D works on paper, all featuring a comforting, soft palette of mostly blues and pinks with the occasional true red and black. At first glance, the works, which could accurately be called either paintings or drawings, seem to have a connection to abstract expressionism. It might be worth noting that abstract expressionism is also cited as the first American art movement (that claim is debated, but maybe this is why so many abstract-expressionism painters credit jazz as influence).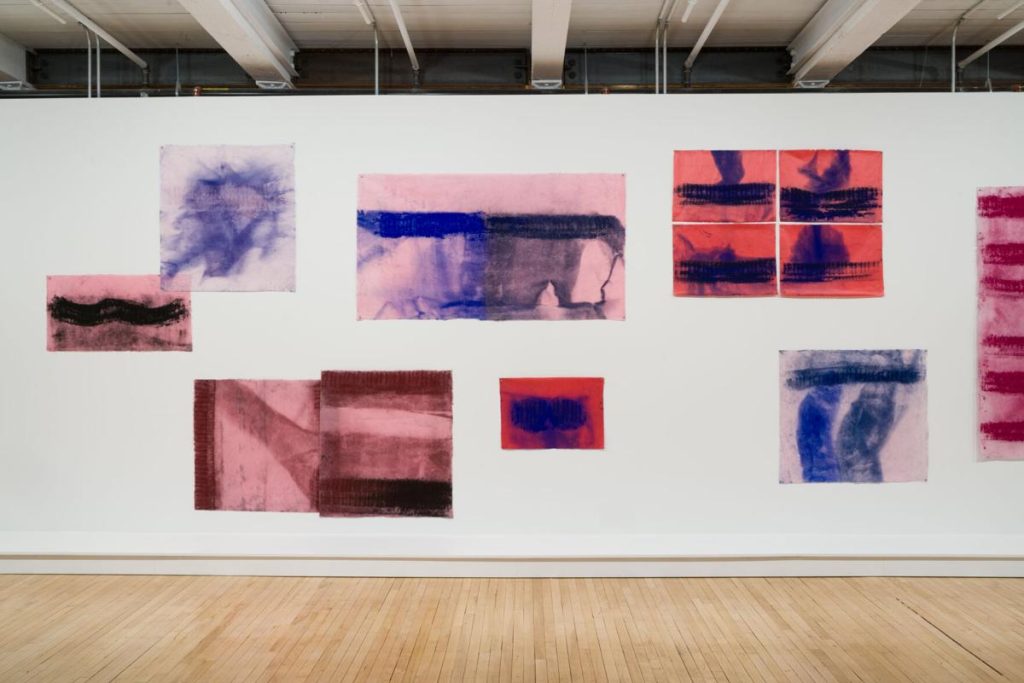 Close looking at the works on paper reveals how specific and structured these seemingly random, abstract shapes actually are. Using strong, semi-translucent gampi paper laid over his piano keys, Moran coated his fingers in pigment and played his instrument through the paper. The result is a dense stretch of color repeated across the page or turned into a shape or symbol. Inside those repeating pigment fields are the lines and shapes of the piano keys played by Moran. There is a palimpsest quality to the pigment application, thin and dusty at the edges and becoming thick in the core shapes, like a brick wall painted over dozens of times.  It certainly hints at the history of jazz with its roots in trauma and its centuries-long, hard-earned ascent to one of America's most-loved art forms.
In the adjacent room, Moran has installed sculptures from his "STAGED" series, which are as the title suggests: stages. Through intensive research into the NYC venues that showcased jazz performances in the 20th century, the artist traces jazz as it moved from Harlem in the 1920s to Midtown in the 1940s and on to the Lower East Side in the 1960s. "STAGED: Studio Rivbea" was commissioned by Mass MoCA for this exhibition and highlights work by Sam Rivers, a "pivotal figure in the free jazz movement." Moran and Rivers collaborated on an album in 2001 titled "Black Stars" (this exhibition is titled in homage).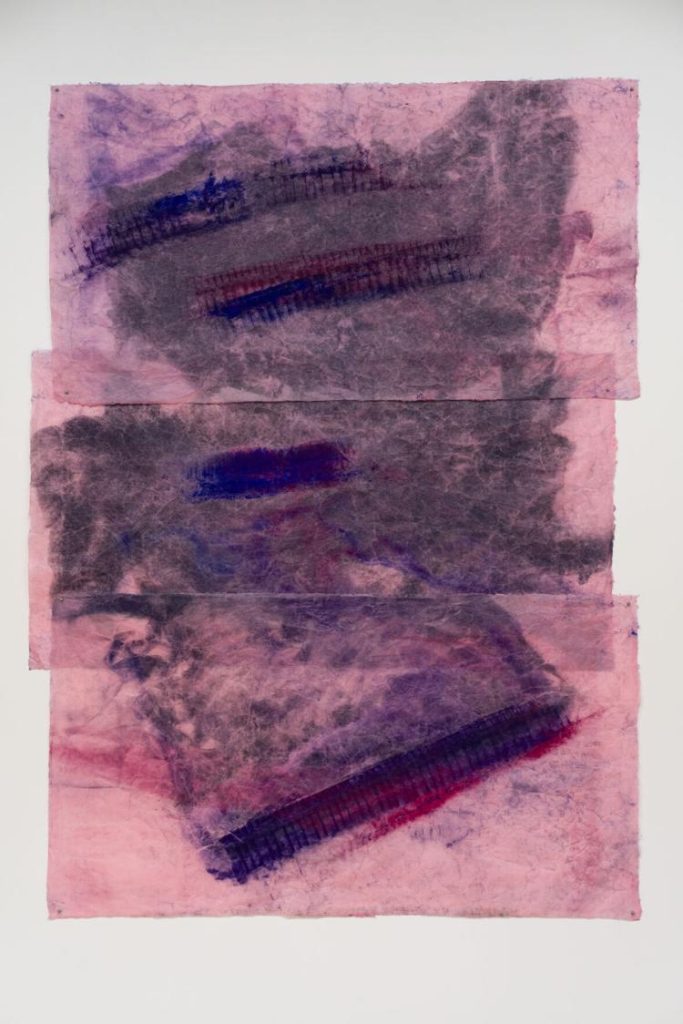 "Moran and Rivers are part of a long history of artists who embrace a variety of media in their practices, often through collaboration," wrote curator Alexandra Foradas in her curatorial statement. Moran is also an artist who works in many collaborations, and not just with musicians: Goundbreaking visual artists Kara Walker and Julie Mehretu are also among them.
The distance between Moran's music and his 2D and 3D works is not as far as it may first seem. Each series is influenced by a deep material history that the artist embodies with his choices; Moran's materials are also his collaborators and what unites his oeuvre. In his art-historical installation and among his works on paper, laden with repetition and memory as they are, it feels as if the audience becomes his collaborators too.
ON VIEW
What: "Jason Moran: Black Stars: Writing in the Dark"
Where: B6: The Robert W. Wilson Building, Mass MoCA, 1040 Mass MoCA Way, North Adams
On view: Through November 2024
Information and tickets: 413-662-2111, massmoca.org