Chris Potter is widely recognized as one of today's greatest jazz saxophonists. He began his career in the late 1980s when he quietly laid down the foundations for his current position as a leading light in jazz. Since then, he has recorded over 15 albums as a leader, including The Dreamer and the Dream, which received a nomination for the Best Jazz Instrumental GRAMMY Award in 2017. In addition, throughout his career, he has played with such artists as Herbie Hancock, Pat Metheny, Joe Lovano, Steely Dan, and the Mingus Big Band, among many others.
Recently, he has been exploring new musical territories on the road alongside bass great Dave Holland and tabla master Zakir Hussain. Together, the three musicians form the Crosscurrents Trio, and explore the jazz influences in Indian folk music – a real meeting of Western and Eastern cultures. They performed one of their first live concerts together in this format at the 25th Istanbul Jazz Festival in Turkey. No city would have been more appropriate: Istanbul is an enormous transcontinental metropolis on the border between Europe and Asia, therefore, it is commonly viewed as a bridge between the Eastern and Western worlds. There, Potter, Holland, and Hussain mesmerized the audience in attendance at the packed Main Theater of the Zorlu Center PSM – the third largest performing arts venue in the world – on June 29. Potter spoke with JAZZIZ the day after this concert, to talk about his impressions of Istanbul, the origins of the Crosscurrents Trio project, the universal language of music, and more. Below is an excerpt of our conversation, which has been edited for length and clarity.
JAZZIZ: How familiar are you with Istanbul? What do you think of it?
Chris Potter: The first time I came here was a few years ago, and I fell in love with it immediately. I just really liked the city. I liked walking around, the feeling, the architecture, the food, the music from here… It's a very special place! I liked this meeting between the East and the West.
How do you see a jazz festival fitting into a city like this?
I think a jazz festival can fit in anywhere. For me, a big idea of what jazz is is that it's a mix of things. The original music that we call jazz was a mix of French marching band music and African music, Spanish music… Jazz now has absorbed all kinds of influences from all over the world. The music that we're doing here, it's me and Dave Holland who have been working mostly within the jazz context for most of our careers, and Zakir Hussain, who is an absolute master of Indian classical music. So, there's already this meeting within this particular project. So, to be performing it here adds another thing to the mix.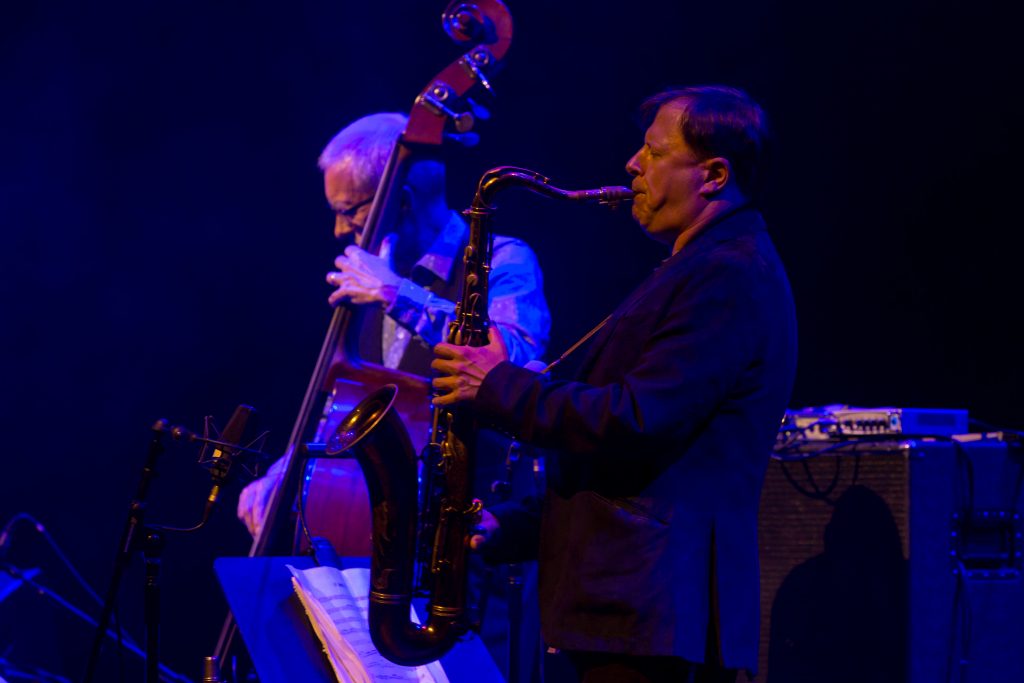 Can you tell us a little bit more about the origins of this project?
Zakir lives in San Francisco and has a center there for jazz. He calls a few different bands to do a few different things there, and there was something I was involved with there, also with Dave Holland and four other musicians from India, who were basically jazz musicians but knew about the Indian classical music world. So, the trio kind of came as an offshoot of this larger group, which has done some touring as well. We never came here, but we've done some tours all over the world. We went to India last year too. So, it was Zakir who originated the project. After we worked together for a while, we decided to go out as a trio.
Was there a particular reason for that?
I think we just wanted to explore what it would feel like just to play the three of us. It obviously gives a lot more freedom for each one of us. We each have a lot more room. And it's a lot more mobile too. With the large groups, just the logistics of traveling around, the band is seven or eight people, then a couple of sound people, the tour manager, and so on. It's a much bigger thing. This is a smaller unit.
How familiar were you with Indian classical music before?
It wasn't anything that I'd ever studied formally but I've been listening to Indian music for a long time. When I first met Zakir, I was kind of shocked to ever be playing with him because I was so familiar with him. I remember there was a record that I got when I was maybe nineteen or twenty of him performing with his father, who was also a master of the tabla. And this was music I had never heard before, with these rhythms that I'd never heard. It really got to my ear. I used to practice along with that all the time. So when I met him, I felt like I kind of played with Zakir fifteen or twenty years before I actually got the chance to do it.
So you had an easier time connecting with him?
I think in general, music is such a language in itself. Even if the context is much different, or even if it's a situation where musicians have trouble communicating because they have trouble speaking the same actual language, they can still communicate really well musically. So, music goes beyond all these borders.
Are you going to be recording in the studio with the Crosscurrents Trio?
We're starting to talk about it. We're not exactly sure when, where, how, what, but I would be in favor of it – definitely. I think the more we do it, the more we get into it. We're all enjoying ourselves so hopefully, that'll be something that continues into the future.