The Rocketeer Sound
A powerhouse singer whose soulful, impeccably controlled vocals can turn on a dime from runaway-train intensity to a soft and sultry whisper, Lucy Woodward employs every element of her voice with The Rocketeers. The project's dynamic compositions and arrangements are written specifically to match her passionate vocal manner, color, and timbre; they range from fiery, high-energy explosions to hauntingly intimate meditations, all of which make vibrant use of the players' respective skills, forward-thinking, and open-minded personalities.
"The musicians that we have in this band are leaders in their own music and they're not typical," explains Rocketeers trombonist and co-founder Louk Boudesteijn, founder of New Rotterdam Jazz Orchestra and Bonsai Panda. "I always look for the misfits and then bring them together, and then we all celebrate that we are part of a group again." Most of the ideas for The Rocketeers' repertoire, a mixture of covers and original material specifically written for this ensemble, were hatched from Lucy and Louk singing around the piano. Louk's arrangement of Billy Strayhorn's beautiful "A Flower Is A Lovesome Thing" provided the initial inspiration for the project, its intriguing mixture of fragility and wildness giving them a clear vision of the complex musical/emotional scope they should strive for.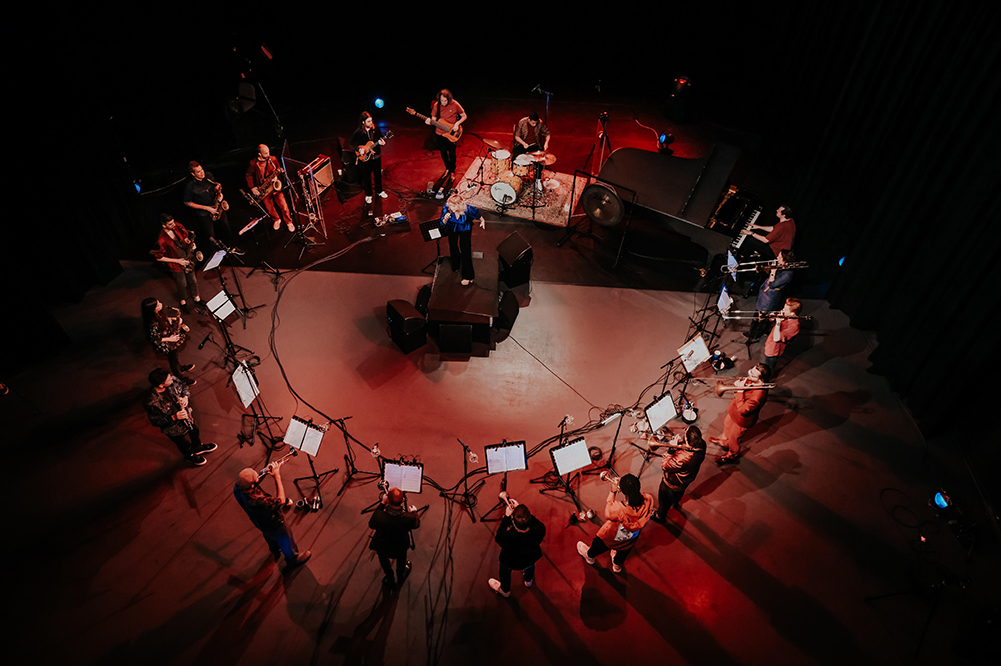 18 Rocketeers?
This collective features eighteen men and women from countries including The Netherlands, Spain, Italy, Ghana, Turkey, France, Lithuania, and the United States, all of whom have forged a deep connection to The Netherlands. Merging vintage vibes with a wide array of cultural and musical influences, The Rocketeers break the staid, traditional "Big Band" mold to create a vital and exciting genre of their own.
Musically and personally, The Rocketeers are all about movement. They go from one place to the next in search of new adventures, new boundaries, and new lives, finding themselves in the borders they cross, the stories they tell, and the gigs they play. Their home is what they carry and how they carry it, for such is the life of a musician. They traveled from near and far to record and film this project live in Rotterdam.
Lucy Woodward epitomizes this sense of music-driven movement. Born in London to classical musicians, she's been traveling since Day One, and she's been coming to The Netherlands her whole life. Her father, Kerry Woodward, was a conductor for the BBC Singers before moving the family to Amsterdam after taking the conductor chair in the Nederlands Kamerkoor. Lucy lived in Amsterdam until age 5, before moving to New York with her mother and brother when her parents separated. But she regularly returned to spend summers with her father in the Dutch city of Soest — and later The Hague, where he now lives with his wife, well-known Dutch opera singer Anne Haenen.
The rhythm section of The Rocketeers is comprised of Jelle Roozenburg (guitar), Niek de Bruijn (drums), and Udo Pannekeet (bass). Hailing from The Netherlands, they have been Lucy's touring band of several years, performing with her at internationally renowned festivals such as Istanbul Jazz Fest, Athens Jazz, Jazzkaar in Tallinn, as well as touring together throughout Spain, Italy, Georgia, and Tunisia, among other countries. Over time, their musical chemistry and their immense trust in each other's abilities have gelled into something that's deeply organic, telepathic, and thrilling.
Stories, melodies, emotions
That's what Lucy Woodward and The Rocketeers stand for, along with stunning instrumental interplay and a collective visceral power that bursts from the stage. This is a project that is absolutely meant to be experienced in a live setting. "I love the Big Band genre and the singers that came from this era," says Lucy, "but I now want to contribute to being a part of the wave that moves it all forward." With their innovative, boundary-breaking spin on the concept, The Rocketeers are pointing the way.
Some Quotes
"Til They Bang On The Door, it's brilliant. Well done, miss you in the band. Sir Rod xxx" SIR ROD STEWART (Twitter)
"Lucy is a deep, soulful vocalist who is as versatile and virtuosic as she is passionate." MICHAEL LEAGUE (Snarky Puppy bandleader)
"A masterful performer…An unusually dynamic and skilled singer… Lucy Woodward…what a singer!"AARHUS JAZZ FEST
"Lucy Woodward is overwhelming and dominates the stage with absolute confidence by vibrating the deepest emotions of the audience. The notes of her voice are intense and life-saving." GARDA JAZZ FEST