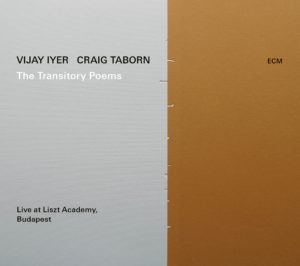 ECM announces new recording from piano duo, Vijay Iyer and Craig Taborn; The Transitory Poems is due on March 15, 2019
The Transitory Poems, recorded live in the concert hall of the Franz List Academy of Music in Budapest in March 2018, is the first release from the duo of Vijay Iyer and Craig Taborn, two of the most distinctive contemporary improvisers. Each a bandleader in his own right, these highly creative pianists have considerable shared history. They began playing together inside Roscoe Mitchell's Note Factory in 2002. In Mitchell's group, Taborn and Iyer were called upon to address complex notated material and to deal, concurrently, with the challenges of instant composing and spontaneous arrangement via collective and individual improvisation. "Our duo formed in the crucible of that band," Vijay and Craig remark in a performers' note here, "in pursuit of music unique to its moment of creation." This has remained the quest throughout their subsequent duo work, shaping music in real time, the project evolving from concert to concert. "Something was born for me in the context of working with Roscoe," Iyer has said, alluding to "a certain quality of listening: how to navigate, how to give way to each other, how to build together…"
 Constructive collaboration informs the duo's music. As Craig Taborn has explained, "part of my practice with improvising is to fully dive in. I become the audience, listening to events and sounds and agency. Whether I'm playing something or not is the first thing I let go of: then I can encounter what is happening." The musical environment is scanned, details embellished, structures shored up, densities measured, rhythms dovetailed, melodic lines given space to emerge and coalesce. The music is in movement in the fleeting world of The Transitory Poems, transforming and mutating from moment to moment. At times it may acknowledge the vast history of music for two pianos although, as Craig has also pointed out, he and Vijay are "both composers and improvisers and orchestrational pianists – so the question of instrument is just a fact of the context, and not the primary challenge."
 Listening back to their recording, the players heard it as "a series of homages" to great artists who had profoundly influenced them, artists who had recently passed away. "Luminous Brew" is dedicated to Cecil Taylor, the pianist whose music, in its intensity, polyrhythmic complexity and sound organization, remains a vital reference for a generation of musicians. The Iyer/Taborn album title derives from a Taylor interview, in which humanity and its endeavors are considered 'transitory poems', unfolding against a backdrop of the mountains that are here to stay.
 "Clear Monolith" is for Muhal Richard Abrams, the visionary pianist, composer and improviser, who lit the paths of the early AACM and opened unexplored routes for the music. The painter and sculptor Jack Whitten, dedicatee of "Sensorium", described himself – in his log Notes from the Woodshed – as "a quantum expressionist". Whitten derived much inspiration for his work from jazz, and spoke of translating Coltrane's sheets of sound into sheets of light.
The final track is dedicated to Geri Allen and hints of her theme "When Kabuya Dances" emerge gradually through the improvisation that is "Meshwork", before the Allen composition, a modern classic, comes to the fore.