Guest Artists Include George Benson, the Late Roy Hargrove, Ramsey Lewis, Joe Sample, Arturo Sandoval, and More.
Love Notes, a brand-new album of eleven tracks with vocals and piano by Monty Alexander, is set for release on August 19th, 2022. The collection represents the culmination of Monty's decades-long desire to record a vocal album after releasing 75 piano projects over the course of his illustrious, critically-acclaimed career.
Said Monty, "My desire was emboldened ever since one of our great Jazz vocalists, Carmen McRae, heard me sing a tune at the end of a concert and told me "Don't stop singing!", admonishing me like a loving aunt would. That was back in the 1970s so it took me fifty years, and a century later, but I am glad to finally introduce Monty the vocalist, and this collection of love songs."
Thoughtfully curated, the eleven tracks on Love Notes are some of Monty's favorite songs crafted and arranged in a totally unique setting. With the exception of "These Love Notes" (Monty's original composition with lyrics by Brian Jobson), all of the songs have a direct connection to his childhood — the first songs he ever heard and loved — and they bring back the scent and romanticism of the Jasmine flowers Monty used to smell as a child in Montego Bay. "These songs harken back to innocent times, the 1950s, when I would hear calypsos and mentos in the streets," continues Monty, "before I came to America, before the rise of Bob Marley, and certainly before I knew I would have this incredible career as a Jazz pianist with over 75 albums recorded to date. 75 albums as a pianist and one as a singer!"
Another important aspect of this album, regarding inspiration, is that period in Jamaica when Monty used to sneak out of school to go to the recording studio, during the time of Ska but also the time when Jamaicans had a love affair with these kinds of songs, songs from the great American Songbook but merged with Jamaican rhythms and vibrations. This was the late 50s and early 60s when Monty was 14/15 years old…Many identified these rhythms as "rockers". Monty was there, and he was there at the beginning of ska as well – indeed a pioneer!
Ranging in the artist spectrum from Henry Mancini to Nat King Cole to Harry Belafonte and more, Monty couples his passion for the music with his extraordinary piano playing and the intimacy of his wonderful vocals, crafting an album that will resonate with the romantics in all of us and to be enjoyed for many years to come. The release of "Love Notes" will be accompanied by tour dates worldwide, and also in the works is "The Monty Alexander Movie," a documentary on Monty's life and music. Directed by Academy Award-winning cinematographer and veteran filmmaker Arthur Gordon, the project is currently in production in Jamaica, the U.S., and Europe.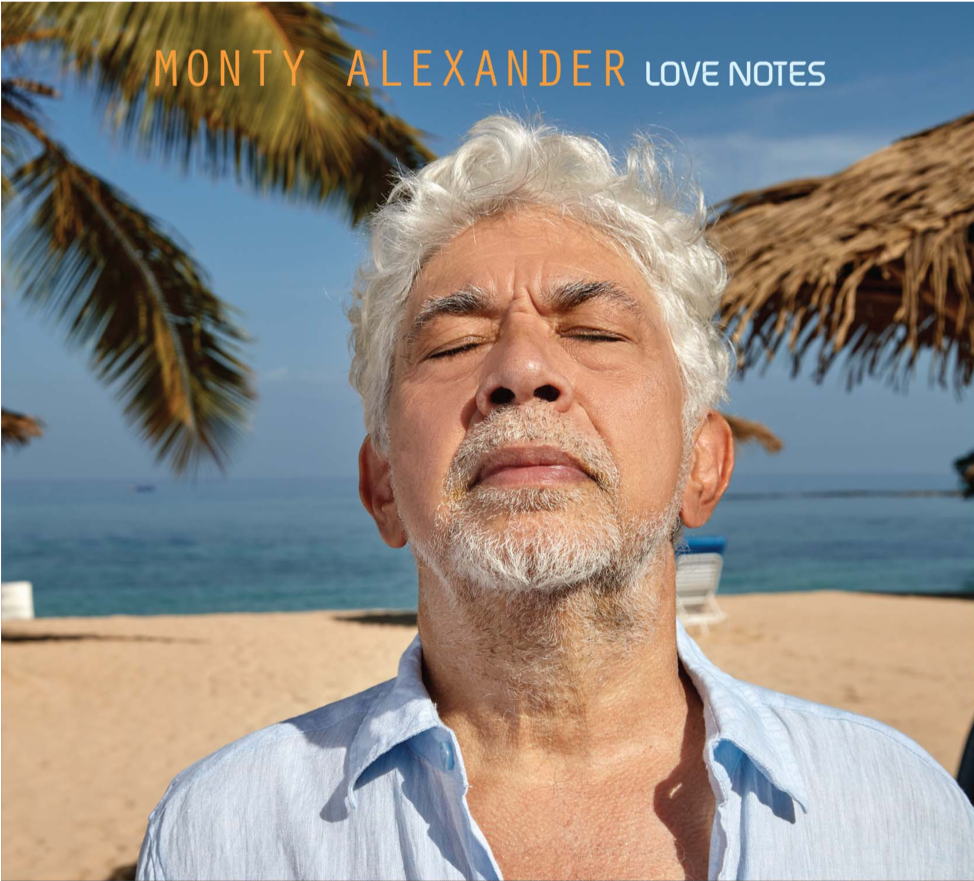 Below are some thoughts from Monty on the individual tracks on "Love Notes":
Day In Day Out
Both Sinatra and Nat King Cole did this song, each more wonderful than the other.
These Love Notes
A song I recorded instrumentally that became a favorite of couples. Here is the vocal version with lyrics by my friend, Brian Jobson.
The Nearness of You
As romantic a song has ever been written. Hope I did no injustice. Roy Hargrove put an extra blessing on it.
As Time Goes By
A favorite of mine from the film, Casablanca immortalized by Dooley Wilson who played Sam in the movie. The great trumpeter, and my friend, Arturo Sandoval, plays an unforgettable melodic solo.
Faith Can Move Mountains
I remember hearing this as a little boy in 1952 and it gave me faith for the future. One of my Nat King Cole favorite songs. This features a solo by Roy Hargrove.
Island In the Sun
Our greatest music of Jamaican heritage whom my mother had a crush on 🙂 Thank you, Harry. I am honored to know him personally. A few years ago, I went to Jim Czsak's Nola's recording studio just as a test trial to record a vocal. The piano in the studio had once belonged to the great Erroll Garner. This is the only take from that trial session, just me and the piano.
To the Ends of the Earth
Another song from Nat King Cole's marvelous repertoire.
Moon River
Henry Mancini's great song was introduced in Breakfast at Tiffany's with Audrey Hepburn. Featuring Arturo Sandoval's beautiful solo.
Too Marvelous For Words
Once again, the great Nat, the King! This was a favorite of mine. Another song that both Frank Sinatra and Nat King Cole recorded. In fact, I believe that when Nat was a guest on Sinatra's radio show, Frank sang this song while Nat played the piano. This one on the album is a rare live recording of my concert from 1982 that was sent to me recently and unexpectedly; it was originally recorded on a cassette and later digitized. This was my swinging quartet playing live in Barcelona in front of an audience who was digging my scat solo.
Straighten Up and Fly Right
One of Nat King Cole very few compositions, inspired by his father, Rev. Coles, admonitions to his Chicago congregation. This is a live recording from a concert in Frankfurt Germany, another rare occasion where my live singing was captured on a recording.
For Sentimental Reasons
A song introduced by Nat King Cole that was also a favorite of Sam Cooke's in the doo-wop tradition.
Musicians:
1 Day In Day Out
Monty Alexander (vocals, piano, keyboards), Rubens de la Corte (guitar), Courtney Panton (el. bass), Karl Wright (drums/percussion) Features: Monty Alexander
2 These Love Notes
Monty Alexander (vocals, piano intro), George Benson (guitar), Ramsey Lewis (piano solo), Joe Sample (Fender Rhodes), Courtney Panton (el. bass), Karl Wright (drums/percussion), Andy Bassford (rhythm guitar) Features: Monty Alexander (piano intro only), George Benson, Ramsey Lewis, Joe Sample
3 Nearness of You
Monty Alexander (vocals, piano), Rubens de la Corte (guitar), Courtney Panton (el. bass), Karl Wright (drums/percussion) Features: Monty Alexander – Roy Hargrove (trumpet)
4 As Time Goes By
Monty Alexander (vocals, piano), Courtney Panton (el. bass), Rubens de la Corte (guitar), Karl Wright (drums/percussion) Features: Monty Alexander – Arturo Sandoval (trumpet)
5 Faith Can Move Mountains
Monty Alexander (vocals, piano), Rubens de la Corte (guitar), Courtney Panton (el. bass), Karl Wright (drums/percussion) Features: Monty Alexander – Roy Hargrove (trumpet)
6 Island in the Sun
Monty Alexander (vocals, piano)
Solo Piano and vocals
7 To the Ends of the Earth
Monty Alexander (vocals, piano), Rubens de la Corte (guitar), Courtney Panton (el. bass), Karl Wright (drums/percussion) Features: Monty Alexander
8 Moon River
Monty Alexander (vocals, piano, keyboards), Arturo Sandoval (trumpet), Courtney Panton (el. bass), Karl Wright (drums/percussion) Features: Monty Alexander – Arturo Sandoval (trumpet)
9 Too Marvelous for Words
Monty Alexander (piano and vocals) Paul Berner (bass), Steve Williams (drums), Bobby Thomas Jr. (hand drums) – Recorded live in Barcelona, Spain 5/28/1982
Features: Monty Alexander
10 Straighten Up and Fly and Right
Monty Alexander (piano and vocals) Hassan Shakur (bass) and Quentin Baxter (drums) – Recorded live in Frankfurt, Germany 11/26/2004
Features: Monty Alexander
11 For Sentimental Reasons
Monty Alexander (vocals, piano, melodica, keyboards), Courtney Panton (el. bass), Rubens de la Corte (guitar), Karl Wright (drums/percussion)
Features: Monty Alexander
Featured guests:
George Benson (guitar), Ramsey Lewis (piano solo), Joe Sample (Fender Rhodes): "These Love Notes"
Roy Hargrove (trumpet): "Faith Can Move Mountains" & "The Nearness of You"
Arturo Sandoval (trumpet): "As Time Goes By" & "Moon River"