"Ms. Wright conveys a bird's-eye command, hitting her notes precisely and illuminating even the space around them with a ruby glow. This brand of wisdom-singing almost borders on the mythic, but there's some physical need in her voice that brings things home…" The New York Times
"…Wright translates with phenomenal fluency between inner awareness and outward demonstration, individual seeking and conscious communion, ecstasy and empathy." NPR
"…spellbinding jazz of soulful intimacy…" The Guardian (UK)
"…one of the tastiest live bands to grace our studio…" XPN "World Cafe"
Chicago, IL – Tuesday, May 24, 2022 – A steward of American music, acclaimed vocalist Lizz Wright reclaims her legacy with the launch of an independent record company, Blues & Greens Records. Wright's label venture is designed to forge an innovative business model where artists are positioned to build sustainable and wholesome careers. Blues & Greens Records launches with the June 15, 2022 release of Holding Space, a brilliant live album capturing a Berlin, Germany concert where Wright and her band close out their 2018 European summer tour. In a short film companion piece, Wright reflects with her bandmates about what it actually feels like to have the presence of a listening world in her life.
Rising out of the pandemic and returning to stages across the globe, Wright embraces her career through an inspired initiative where she is at the helm of her business. After 20+ years of major and indie label contracts, Wright sees the imbalances of power and unfairnesses in artistic ownership. Blues & Greens Records creates a healthy ecosystem for Wright, and emerging artists. Her debut release, Holding Space, becomes the first master recording she owns.
"While stages went dark in 2020, I turned to cooking at our café and wellness market Carver 47 in the Southside of Chicago that we initially opened in 2017 and re-opened in a newly renovated space after the 2020 lockdown," says Lizz Wright. "One morning, just before 6am, I went into our prayer room at our house with the light of one candle. I took a deep breath, surrendered to the same focus that I draw on in performance, and began to sing, instead of speak. My voice reverberated about the room, causing me to gasp, and burst into tears. 40 years has passed since singing in my Dad's church and standing on hundreds of stages. For the first time, I sang to my own soul, and it changed my life forever."
Blues & Greens Records restores the basic humanity in the music business with wellness, and sustainable and sound business practices at the forefront. Blues & Greens artists will own their masters, creative works, and images. A vault of assets will be bestowed to artists with all rights under their own names. Artists will design and captain their unique narratives and work with industry leading publicity and marketing experts to share these stories with the media.
This summer, the team behind Blues & Greens Records launches its first artist-focused program working directly with managers and promoters for touring artists. Carver 47 (LINK) provides travel wellness kits, fresh juice blends, wholesome homemade meals, soaps/creams, and other nourishing items to artists on the road when they arrive to venues' dressing rooms. Following the pilot program throughout Chicago, Blues & Greens Records artist services will roll out nationally in autumn 2022.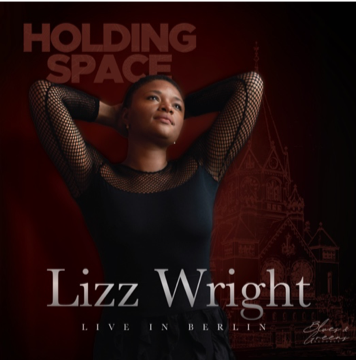 Holding Space – Lizz Wright: Live In Berlin
During the 2020 lockdowns, Wright came upon a live recording that caught her attention from a 2018 show in Berlin at the end of her summer tour. Produced by Christian Ulbrich, Holding Space features a 10-song collection of Wright singing with her electrifying band including: Bobby Ray Sparks II (keys), Ben Zwerin (bass), Ivan Edwards (drums), and Chris Bruce (guitar). A companion short film of the same title accompanies the live album and captures the power of live performance and its exhilarating effects on the audience. Produced by Monica Haslip and Lynne Earls, the Holding Space film includes behind-the-scenes footage and interviews with all of the musicians. The film and album Holding Space will be co-released on June 15, 2022.
About Lizz Wright:
Through an inimitable voice that The New York Times touts as, "a smooth, dark alto possessed of qualities you might associate with barrel-aged bourbon or butter-soft leather," Wright sings with a soaring reflection of the cultural fabric of America. She lies beneath the script of human history transcending social divides with an offer of love and deep sense of humanity. Her music accepts the beauty of reality and a collective experience of belonging. For the listener, Wright's songs embody a tradition that allows us to always feel at home.
Wright culls inspiration from her Southern upbringing in Georgia where she was the musical director of a small church in which her father was the pastor. Gospel music, and the call and response singing with the church congregation, informed her first brushes with music while soon she would traverse the Great American Songbook on her path to an illustrious singing career.
At the age of 22, Wright made a name for herself nationally as a vocalist with a touring concert tribute to Billie Holiday, where her poised performance stole the show. At 23, she signed with Verve Records for the release of Salt, which topped Billboard's contemporary jazz charts. Her subsequent albums (Dreaming Wide Awake, The Orchard, Fellowship, Freedom & Surrender) continued to top the charts with her single "Lean In" (from Freedom & Surrender) landing on President Obama's 2016 Summer Playlist.
Wright's latest full-length studio recording, GRACE, reveals the web of deep running roots of story and song that bind together the vastly diverse traditions that are the soul of the American South. Produced by Americana icon Joe Henry, GRACE features an expansive collection of 10 covers and an original co-write with Maia Sharp. Wright offers singular arrangements of music by Ray Charles, Allen Toussaint, Nina Simone, Sister Rosetta Tharpe, k.d. lang, Bob Dylan, Frank Perkins, and Mitchell Parish, as well as emerging artists Rose Cousins and Birds of Chicago.