With a new album Another Land, just released to much acclaim, Alyn Shipton caught up with Dave Holland and found him as enthusiastic and as talkative as ever, and raring to get in front of audiences with his new trio.
When I catch up with him, Dave Holland is buzzing with enthusiasm for his new trio with guitarist Kevin Eubanks and drummer Obed Calvaire, and their recently released album Another Land. Partly it's clear that he really enjoys this trio's music, but partly also he sees the recording as the first sign of the return of a busy, active musical life that has been on hold for a year and a half with the Covid-19 pandemic.
"It's the first time since I was 13 that I haven't been playing with people, and for people, and it's left a big gap in my life," he reflects. "But I've been staying busy with other things, including some of the finishing on this album. Most of it goes back before that, because we've been developing this music for quite a few years. It began when we started playing with Obed. Before that, Kevin and I had been working together on and off for a long time, and then we took Obed to Russia with us, about four years ago. I'd heard him in a club previously, and just loved his playing. I went up to him after his set and asked if he'd be interested in doing something with me. And he said, 'Sure, give me a call!' So that's exactly what I did, and we've been working with him ever since then.
"This music's been kind of nurtured in the live performances that we were doing with each other after that. We kept adding new material and refining the stuff, and finally when we did the recording, it really was at the right point. It captured what I had hoped it would capture! That business of going on the road is, to me, an essential part of recording. I can't even think of a record of my own that hasn't been done with some preparation on the gigs. I love the chance to develop things and to dig down into the potential of the compositions, and of the group itself. It's discovering what we can really do, not just a cursory reading of the music. That's been my method of operating for a long time."
I remembered hearing Holland in his quintet with Chris Potter, and Kevin's brother Robin Eubanks on trombone, at the Chicago Jazz Festival in September 2000, three weeks or so before they recorded the Not For Nothin' album. I suggested to Dave that when I caught the group a couple of months later in Europe, the music had matured and altered quite noticeably.
"That's the old way of doing it. Unfortunately, we don't have the opportunities anymore for this continual work, which we used to do. Back in the day, and I'm talking longer ago than that tour you mentioned, you'd be playing with a band 40 weeks of the year. I'm sure you remember, Alyn, when playing at Ronnie's meant a three or four-week residency in London. Now you're lucky if it's three days, in a club of that level and status. What can be better for the music than that old system? To set up shop for a few weeks. I remember Coltrane had a three-month gig when he first started his working band when he left Miles. I think it was at the Five Spot, and can you imagine what that does for the music? It's a fantastic experience. So with the trio, we've been trying to get close to that, as much as we can."
One striking thing about the new record is that it has a great dynamic range. Rather like a live set, it's been carefully sequenced, so that if you take the numbers in order, amid some quite powerful pieces, you arrive at the central, calm track. It is a guitar solo, called 'Quiet Fire', played by Kevin on a semi-acoustic instrument, and it's a new composition by Dave.
"We had been playing that piece as a trio," he says. "And when we were in the recording studio, I asked Kevin whether, in the context of all the other music, he'd be interested in tackling this as a solo. He said, 'Sure, I'd be happy to.' And he has such an incredible way of playing chords and harmonising the music, I just thought it would be a great moment on the album to have him featured on that tune, and he did a lovely job. It's a little breathing space on the album.
"For me sequencing the tracks is an important part of it still, even though in the contemporary world we live in, a lot of listeners buy one track, or two tracks, and listen to those, or stream just a part of the record. But I still consider an album to be a journey, from the first note of the first track to the very end. I like to think that you go through many different landscapes and moods."
A particular musical landscape that is very different from much of the album is the penultimate track, called 'The Village', on which Dave plays the electric bass. Thinking back, I hadn't heard him playing the instrument live since 1997, at a Royal Festival Hall concert by Herbie Hancock's 'New Standard' band, with Michael Brecker and John Scofield.
"Well, that's almost right. Some years ago, I put the bass guitar aside, except for a few occasions like that one you mentioned with Herbie. Actually there was another tour we did more recently, after the Joni Letters came out in 2007. Herbie wanted the concerts to be something of a retrospective through his music, and so naturally that involved some of it being on bass guitar. But that was the last time I played it for any length of time.
"Then quite recently I had a bass guitar made for me, by a wonderful luthier called Michael Tobias, and it really made me want to play the instrument again. So I started practising, and I began to feel like I could find my own voice on it again. For a while I was so admiring of so many of the bass guitarists that have come up since I first started playing it many years ago, that I thought my best contribution was on the acoustic bass. Then I thought, 'I'll just play it the way I play it.' I decided to be myself instead of worrying what everybody else was doing. So that was a big step. And then some of the music we started playing with the trio really was suited to the bass guitar. I took it to the Village Vanguard for a gig we did a couple of years ago, and it started to feel like it was the right thing. And after that, Kevin was on my case, 'C'mon Dave! Get the bass guitar out!' So now I'm into it, and I've had a small-scale bass guitar made, for ease of travelling. So next time I'm on tour with Kevin and Obed, I'll be travelling with that.
"What gave me the idea was that a couple of the guitarists I play with, Kevin and Lionel Loueke, both have had guitars designed that allow them to carry them on planes very easily, and this one is the same. It actually looks like a tennis racquet in its case! It's that small – the overall length is 26 inches."
I suggest to Dave that this is the opposite end of the spectrum from a heavyweight instrument like the Fender Precision, which I know he used to use. There's a wistful sigh from Dave: "Well of course, I still have a Precision, in fact the very one I was using with Herbie on that last tour. I started on a Precision in '59, or maybe 1960, when I was playing exclusively bass guitar, when I was about 14 or 15. It's got a distinctive sound, and they are just great to play. I think Fender basses will always have a place in the music. And for certain types of music, they work better than any other instrument."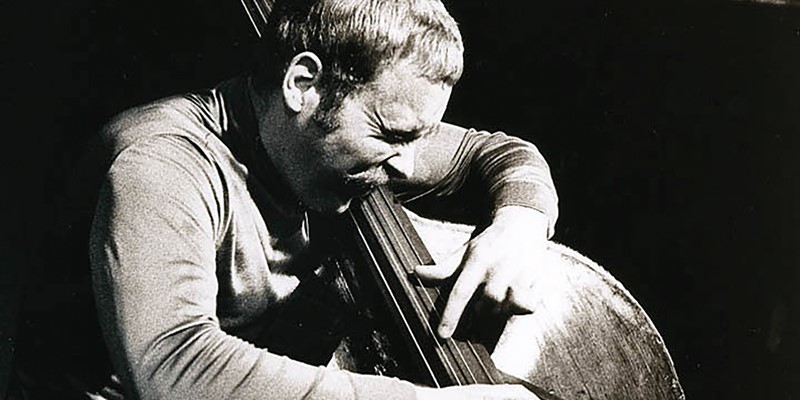 On the album, we move from a track called 'Passing Time', which has a great acoustic bass solo, to the electric bass on 'The Village'. It's quite a contrast…
"Yes", interrupts Dave, "but on the live performances we usually play a continuous set. The way we set up the music enables us to expand sections in different ways, so what we're trying to do is have a framework of the compositions, but with room for lots of new things to happen. We might take off on a different groove or a different tempo, creating a kind of jam feel together, and that gives us a lot of opportunity to really improvise the set around these themes. So these tunes basically run into one another on a live set, linked by transitions that are totally improvised."
This immediately prompts my next question, which is to do with the very successful way that the album never makes the listener feel that the guitar, bass and drums format is limiting, or samey. It has plenty of the energy and originality of say Terje Rypdal and the 'Chasers' trio, or even of Cream.
Dave agrees: "I was a big fan of Cream. I used to travel with a portable vinyl record player, and one of the records I had, along with Bartók and Miles, was Cream. And both Kevin and I love Jimi Hendrix as well. He was the most amazing musician, and improviser, and we both relate a lot to the spirit of his music. [Holland actually jammed with Hendrix in the studio in 1969] So we're trying to bring all those things together. We both grew up at a time when some of the barriers between genres were breaking down, but now you look at this big umbrella that incorporates jazz, but it really includes so many different possibilities."
"And that's what still excites me about the music. It's not restricted by history dominating what we can do in the future. It's about endless possibilities. And that's what keeps me enthusiastic about playing.
"Overall it's the spirit of the music that matters, and that's been true since my very early days of playing jazz in London. Back then, one of my first gigs was with Wally Fawkes and Johnny Parker at the Crown and Anchor in Islington, playing music that went back to the days of King Oliver. And I've always loved the joyousness of that music, and the sound of everybody fitting together beautifully, improvising together.
"I was so fortunate coming up in London then. I moved to London in 1964, and the first year I was there, I had a gig at a Greek restaurant, playing six nights a week. But I used to go and do a rehearsal band, on Sunday lunchtimes. At that time I was studying with the classical bassist James Merrett, just one lesson a week, and he introduced me to the Guildhall and the idea of going full time. So in 1965 I started a three-year course there, which left my evenings free to play gigs. Some were like the one I mentioned with Wally, but the various jobs really covered the whole history of the music. There was swing with Lennie Best, the vibes player, and then there were sessions with Alan Littlejohn and Tony Milliner with the band at the Tally Ho in Kentish Town, and at one point I'd be at that place two or three nights a week! Then I started meeting some of my peers, like John Surman and Chris McGregor, which got me involved in that newer music. And that led me to Ronnie's Old Place, which was a great breeding ground for all of us learning about the music and performing there, before finally getting to play at Ronnie's main club on Frith Street. So from 1965 to 1968 (when I left for New York) was like a crash course in the music, and I'm still so grateful. I'd always say to piano players, 'Can I come over tomorrow and go over a few things?' And we'd look at chord sequences, or tackle a new song, and that's the way to learn.
"That led to a lot of opportunities too. People would call me. For example, Kenny Wheeler heard me in a rehearsal band. He had this record date for Windmill Tilter, which he was going to do with the John Dankworth band. Kenny Baldock, who normally played with the band, injured his finger just before the session was due to happen. So John called Kenny to ask what he ought to do, and Kenny said, 'Oh I heard a young guy the other day at this rehearsal band. Why don't you give him a call?' Can you imagine that? The call coming out of the blue? By the way, I'm so glad to hear that album is coming out again! Kenny gave me that chance, and to be on that record, playing that incredible music, just blew me away. It was written in a way that I'd never heard anyone write for big band before. His harmonic concept, his melodic lines and his whole way of orchestrating using mixed voices was all just brilliant. He continued on through all the years, and I was so fortunate to keep playing with Kenny on and off, right up to when he finally left us. Each time I learned so much from playing his music. The way he thought about harmony and his approach to writing were very influential on me, and they've appeared in my own work many times over the years!"