CHIEF ADJUAH & THE SOUND CARVED FROM LEGEND
A STRETCH MUSIC LIVE EXPERIENCE FROM CHRISTIAN SCOTT ATUNDE ADJUAH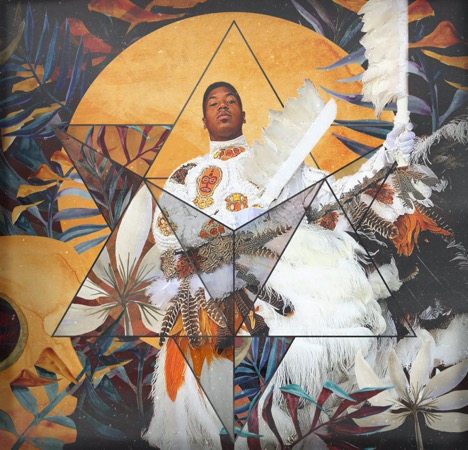 MUSIC WORKS INTERNATIONAL represents Christian Scott aTunde Adjuah for the African Region only.
A new vision and touring experience from iconoclast two-time Edison Award-winning, three-time Grammy-nominated composer, Chief Christian Scott aTunde Adjuah. Heralded by NPR as ushering in "a new era in jazz," Chief Adjuah continues to expand on the trailblazing pace he has set since 2006 with his Grammy Nominated debut Rewind That JazzTimes Magazine proclaims him as "The architect of a new commercially viable fusion" and "Jazz's young style God." Since 2015, Chief Adjuah has released six critically lauded studio albums to add to his previous highly lauded works. Stretch Music the inaugural recording of his's vision of genre blindness in sound. Ruler Rebel, Diaspora, and The Emancipation Procrastination [collectively The Centennial Trilogy] a three-album series commemorating the 100th anniversary of the first jazz recordings. The trio of recordings, released in 2017 and 2018, are sonic explorations rooted in a sobering re-evaluation of the world's social and political realities and their correlatives a century earlier. 2019's Ancestral Recall which highlighted the sounds of his ancestral history and coronation as Chieftain and Idi of the Xodokan Nation of New Orleans Black Tribal Nations (regionally referred to as Black Indians). Ancestral Recall was said to be "A Listening Revolution" by Exclaim Magazine. The document, in its inception, was designed as a map to de-colonialize sound; to challenge previously held misconceptions about some cultures of music; to codify a new folkloric tradition and begin the work of creating a national set of rhythms, rooted in the synergy between West African, Native American, African Diaspora/Caribbean rhythms and their marriage to rhythmic templates found in trap music, alt-rock, and other modern forms. And lastly 2020'S AXIOM Chief Adjuah's latest live recording and third live album. The previous two being Live at Newport released in 2008 and Ninety Miles Live at Cubadisco (with Stefon Harris and David Sanchez) in 2011.  A blistering LIVE set showcasing his Stretch Music group concept. Rooted in the intellection of listening as the primary conduit for understanding and narrative in sound, pointedly contrasting the energy and sound design of his studio albums. The document features flautist Elena Pinderhughes, Grammy nominated saxophonist Alex Han, djebefola Weedie Braimah, pianist Lawrence Fields, bassist Kris Funn and drummer Corey Fonville and marks the 6th release by Adjuah after forging full independent freedom in his collaboration with Ropeadope and the creation of his Stretch Music Label and App company.
Both his earlier albums, The Emancipation Procrastination and Ancestral Recall, were nominated for Best Contemporary Instrumental Album at the 61st and 62nd Grammy Awards marking Adjuah's second and third nominations. The recordings also garnered the chief a Downbeat Critics Poll Rising Star Composer, Rising Star Trumpet, Trumpeter, and Electric/Jazz-Rock/Contemporary Group/Artist wins from the publication. Stereogum named The Centennial Trilogy Best Jazz Album of the 2010's. So far in 2020, Chief Adjuah was announced as the Jazz Journalist Association's Trumpeter of the Year as well as recipient of the Herb Alpert Award in the Arts. Additionally, the Stretch Music recording was accompanied by a groundbreaking app by the same name and for which Adjuah won JAZZFM's 2015 Innovator/Innovation of the Year honor. The chief also recently starred in Billboard and 1800 Tequila's Refined Players Series and is the subject of PBS American Masters' Masters in the Making set for release this year.
In recognition of his musical contributions, Adjuah was featured in Bill & Ted Face the Music playing a Noble of the Future Council, leaders of a world saved by music. He also contributes his Trumpet sound to Louis Armstrong's character throughout the Motion Picture.
Sound Carved from Legend continues his mission to unify people via their musical and cultural voices by tearing down the sonic and social constructs that separate them. As a newly ascended Chieftain, Adjuah is deeply committed to turning identity politics, as they are used in music, into a means of connection rather than an exclusionary force. Seeking to excavate and update hidden histories in sound by displaying a sonic tapestry that illuminates the har-melodic movements found within rhythm. Adjuah explains, "In its inception, recalling was built as a map to challenge previously held misconceptions about some cultures of music, to codify a new folkloric tradition and begin the work of creating a national set of rhythms; rooted in the synergy between West African, African Diaspora/Caribbean rhythms and their marriage to rhythmic templates found in trap music, alt-rock, and other modern forms. It is time we created a sound that dispels singular narratives of entire peoples and looks to finally represent the wealth of narratives found throughout our human experience: an experience that shows that all forms of expression in sound are valid, as are all people." The goal is to connect people in one understanding rather than dividing them by definition. Sound Carved from Legend bridges past and future by marrying the folkloric styles, ceremonial and ritual practice of the Black Indian culture of New Orleans with his own innovation; Stretch Music. The result, a spellbinding exhibition of Afro-New Orleanian and West African narratives where music, dance and cultures collide in a riveting new approach to Stretch Music. A visceral and dynamic audio-visual experience that trespasses traditional genre tenets, asserts new modes of communication and, ultimately, conjures another way of hearing; another sound: "Recalling".
"Christian Scott Ushers in a New Era in Jazz." NPR
"A Listening Revolution." EXCLAIM Magazine
"Jazz's young style God – The architect of a new commercially viable fusion." JAZZTIMES
The sound will feature: Christian Scott aTunde Adjuah on Adjuah Trumpet (Reverse Flugelhorn), Siren, Sirenette, Adjuah's Bow (Kamele N'Goni, Gravi Hybrid Harp) Percussion, and Vocals
Christian will also be adorned in his Ceremonial Regalia as Chief for limited performances (optional)
Touring unit. Percussion core lead by Adjuah and Master Djembefola Weedie Braimah: 5 Percussionist and Drummers (including Weedie Bramiah and Corey Fonville), Flute (Elena Pinderhughes), Saxophone, Piano/Keys, Guitar/Banjo, Bassist, Visual Content Manager 
THE SOUND CARVED FROM LEGEND
Documentary Description
A documentary film chronicling the journey and return of Christian Scott aTunde Adjuah Chieftain of the Xodokan Nation of New Orleans' Black Indians, American Trumpeter and Sonic Architect to the music's West African Indigenous roots. A sojourn of excavating and reconnecting the histories and synergies in narrative and sound, of the indigenous root cultures of Jazz. Reconnecting, restoring, re-envisioning Jazz, and its correlatives via an accurate appraisal of its histories and roots in resisting, surviving, reclaiming, and expressing in the transatlantic world. We will see Adjuah perform rites of initiation and practice in a tribal circle. Singing prayers, traditional Black tribal songs, and rehearsing for the carnival processional before departing to the Diaspora (Brazil, Cuba, Haiti.. ) and finally West Africa. Footage will cover these exhibitions within actual indigenous spaces and venues of sonic modernity and innovation in Jazz and will include Adjuah in rehearsal and development, connecting the Stretch Music sound to its indigenous correlatives. Concert footage, cultural exchanges, and interviews throughout Mali, Senegal, Gambia, Burkina Faso, Benin, The Congo, Ghana, Cuba, Brazil, and Haiti will be focal points as well as his return to the doors of no return in Ghana and Senegal's Goree Island. Ultimately concluding in a Black Indian Court where the music will be exhibited along with a concert experience in Congo Square hallowed ground of the Black Tribes and New Orleans.
Chiefdom
Black Indians of New Orleans are Louisiana based West African style tribal Chiefdoms. Many have openly expressed and retained their West African and Maroon cultural traditions, and practices. Rebelling and liberating themselves since the 1710s. The regional designation of "Black Indians" is partly due to the hybridized ceremonial regalia incorporating elements of West African, Afro Caribbean and Plains & S.E. Louisiana Native American styles. The expression also serves as a means of paying homage to American Aboriginal Tribes who aided, lived, and fought with self-emancipated Africans. The distinction is also a by-product of Louisiana's "Code Noir" Black Codes of 1806 and extending through the Dawes Act legislation continuing a thread of new anti-black caste systems in the Louisiana territories after becoming America. Recategorizing many melanated Aboriginal Americans as "Negroes" to deny them access to resources and land allotted to the "Five Civilized Tribes" as a result of these negotiations, several acts were passed allotting a share of common property in exchange for abolishing their tribal governments, delegitimizing and casting out melanin having natives, and recognizing state and federal laws. The remnants of these interactions are the roots of the Black Tribes of New Orleans. Adjuah's linear forbearers include his uncle Big Chief Donald Harrison Jr. of the Congo Square Nation and Grandfather, Big Chief Donald Harrison Sr. of the Creole Wild West, White Eagles, Cherokee Braves & Guardians of the Flame. He began participating in his grandfather's Guardians of the Flame banner in 1989 and is the current Chieftain and Idi of the Xodokan Nation (aka The Brave).