Christian has just received his 16th GRAMMY nomination for LongGone, with Joshua Redman, Brad Mehldau, and Brian Blade in the Best Jazz Instrumental Album category!
LongGone, the latest album from Joshua Redman, Christian McBride, Brad Mehldau, and Brian Blade, was released on Sept. 9, 2022 on Nonesuch and debuted at the #1 chart position for Current Traditional Jazz Album and #13 for Top New Artist Albums. It got a four-star review and was named Jazz Album of the Month by the Guardian, and has had solid play on NPR, BBC Radio 3, BBC Radio 2, Jazz FM, and more.
Downbeat Readers Poll – Christian Sweeps!
Christian has been named Artist of the Year, Producer of the Year, and Bassist of the Year in this year's Downbeat Reader's Poll. He also won Best Duo, Group or Big Band (with Inside Straight), and Best Mainstream Artist at the Jazz Music Awards.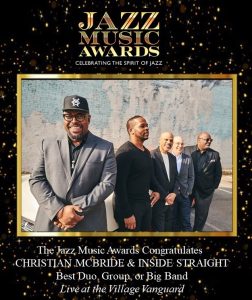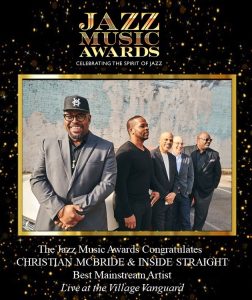 Christian is back in the US after a month-long tour with Redman, Mehldau, and Blade. He plays a special show at NJPAC this weekend as part of the venue's Moody Jazz Fest (more info on that below) and then heads into two weeks of concerts at the Village Vanguard in early December (New Jawn Nov. 28-Dec. 4 and Inside Straight Dec. 6-11).
The Philadelphia Experiment – Live at Newport Jazz – Vinyl Available Starting Tomorrow
Newport Jazz is releasing a limited-edition vinyl recording of the 2017 Philadelphia Experiment set from the festival. The Philadelphia Experiment features Christian McBride, Ahmir "Questlove" Thompson, Uri Caine and DJ Logic, and this show was their 5th performance ever. All proceeds benefit the Newport Festival Foundation. Link here (not live until 11/16 at noon ET).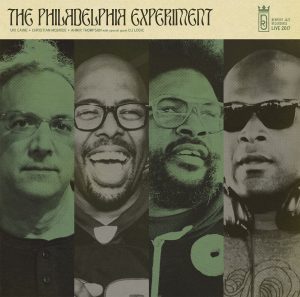 Press and Promo Updates
Christian's The Movement Revisited: A Musical Portrait of Four Icons will be released on vinyl for the first time on Jan. 13, 2023. It will be available for pre-order starting the week of Thanksgiving.
Christian has been newly inducted into the board of the Muhammad Ali Center in Louisville, KY. More info on the center is available here.
Speaking Soundly – podcast interview (recommended listening!)
The Washington Informer – show review
Grateful Web – show preview
Comes A Time with Oteil Burbridge and Mike Finoia – Podcast – Interview
Qobuz – Playlist with Christian McBride's music
The Newport Buzz – Interview
Tom Scott's Podcast Express – Interview
Jazz Blues News – MoodSwing show preview
All Music – LongGone review
Gilde Magazine – Montclair Jazz Festival review
Asbury Park Press – hip hop show preview
New Jersey Stage – hip hop show preview
Jazz Journal – LongGone review
Yahoo – Jazz Music Awards coverage
Upcoming US Tour Dates
(The Outer/Most Agency books Christian in the United States)
Nov 19 – Newark, NJ – New Jersey Performing Arts Center (Represent: A Night of Jazz, Hip Hop and Spoken Word)
Nov. 29-Dec. 4 – New York, NY – Village Vanguard #
Dec. 6-11 – New York, NY – Village Vanguard +
Jan 6, 2023 – Fort Lauderdale, FL – The Jazz Cruise %
Jan 13 – Fort Lauderdale, FL – Blue Note at Sea +
Feb 2 – Northridge, CA – Valley Performing Arts Center ++
Feb 3 – Scottsdale, AZ – Scottsdale Center for the Performing Arts #
Feb 11 – St. Augustine, FL – Fort Mose #
Feb 24 – Fort Collins, CO – The Lincoln Center #
Feb 25 – Salt Lake City, UT – Capitol Theatre #
Feb 26 – Boulder, CO – Boulder Theater #
Mar 3 – Houston, TX – Wortham Theater Center #
Mar 4 – San Antonio, TX – Tobin Center for the Performing Arts #
Mar 21 – Minneapolis, MN – Dakota #
Mar 22 – Minneapolis, MN – Dakota #
Mar 23 – Chicago, IL – Constellation #
Mar 23 – Chicago, IL – Constellation #
Mar 24 – Detroit, MI – Orchestra Hall #
Mar 28 – Geneva, NY – Smith Center for the Arts #
Mar 30 – Wilmington, DE – Arden Gild Hall #
Mar 31 – Richmond, VA – Modlin Center for the Arts #
April 1 – Knoxville, TN – Big Ears #
April 29 – Irvine, CA – Irvine Barclay Theater #
~ Redman Mehldau McBride Blade: A MoodSwing Reunion
% Remembering Ray Brown
+ Christian McBride & Inside Straight
++ The Movement Revisited
# Christian McBride's New Jawn