Painting with Sound
I'll never forget the first time I saw Justin Kauflin perform. It was in 2004, at the Roper Theater in Norfolk, where he was playing with the Governors School for Arts' big band, under the direction of Jae Sinnett.
All of the students were impressive, for their age, but when Kauflin launched into his first solo I was taken aback. He was on a different level, and as I listened with my eyes closed I felt that I could easily be sitting in a New York City jazz club. Still in his teens, he could have held his own with the world's top jazz artists.
Then, at the end of the show, I was surprised again, as I suspect many others in the audience were. When the young musicians stood up to take their bows before a standing ovation, Kauflin grabbed hold of a cane. Until that moment, I'd not known he was blind.
Kauflin wasn't born that way, but while still an infant he was diagnosed with something called Exudative Retinopathy, a degenerative condition that would leave him totally blind by the age of 11.
By that time, however, had long since demonstrated an extraordinary talent for music, having started lessons at the age of 4. Undaunted by his loss of vision, he went on to study after high school at William Paterson University in New Jersey, under the mentorship of the great trumpet player Clark Terry. (Their lifelong friendship is chronicled beautifully in the documentary Keep on Keepin' On—a must-see film, whether you're an avid jazz fan or not.)
After graduating from college, Kauflin's career took off with the help of both Terry and legendary producer and bandleader Quincy Jones. Today he is a highly respected artist with an international reputation, having performed in both club and festival settings, and recorded on numerous albums, including four as a leader.
Kauflin's new CD, Coming Home, came out this month, and it is, not surprisingly, another stellar achievement by a musician who is not only technically brilliant and intellectually innovative, but who has a gift of artistic expression that allows his bright, optimistic spirit and love of life to shine through.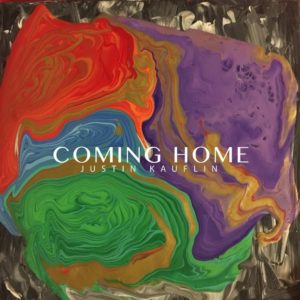 ​The first thing that occurred to me when I opened the CD was how much I appreciate the nearly lost art of liner notes. Kauflin's notes for this album are fascinating and inspiring.
"Ever since losing my sight completely," he writes, "the way in which I experience my surroundings has been quite unique. Instead of everything going black, what I see in my mind's eye is extremely colorful and textured. Every moment is filled with an almost psychedelic swirl of blues, greens, reds, purples and gold against an expansive, seemingly endless backdrop of blacks and grays."
Kauflin goes on to note that the colors change depending on his environment. "When I enter a room, hear a sound or word, or listen to a live band, the spectrum of colors and textures…shifts slightly to associate with what I'm hearing…..When I set out to write music for this project, my goal was to 'paint' a picture with sound."
The title Coming Home, meanwhile, conveys the album's theme: an expression of the many ways in which Kauflin experiences a sense of "home," whether he is traveling through Europe or returning to his actual hometown of Virginia Beach.
"The concept came out of the traveling I've been doing for the last few years," he told me as we chatted by telephone recently. "Initially, all I wanted to do was get home. I would miss it terribly because of the stress of being on the road, the lack of sleep, and always being in a new place. There was lot of anxiety that came with that. Gradually I got accustomed to it, though, and the anxiety went down, so I was actually able to enjoy the experience and take in these places, which started growing on me. I especially love Copenhagen. I now have lots of friends there, and it has this great vibe to it."
The title track, he said, is about his experience of coming home to Virginia Beach—a fact that strikes me as interestingly ironic, since the piece has a sonic quality to it that is a departure from his straightahead jazz work.
"Having Alan Parker on acoustic guitar was interesting for us," he said of the piece. "You don't find acoustic guitar in jazz that much generally, but with the electric bass under it, and the piano and guitar melding together, we got a texture and color that I hadn't seen before."
Another track that has an usual sonic quality is "Lost," which features the sound of a piano called an Una Corda—an instrument that differs from standard pianos in that it only has one string per note instead of three. Kauflin had been experimenting with the sound—playing it on a keyboard hooked up to his computer—and the piece grew out of his fascination with it.
Kauflin wrote nine of the 13 tracks on the album, but there are some notable covers as well. One is "John, My Beloved," by singer-songwriter Sufjan Stevens. Kauflin had been playing it in concerts, and while he said he doesn't know precisely what Stevens' inspiration was, it has for him come to evoke the ways in which he feels about Brooklyn, where he lived off and on for five or six years.
"I have bittersweet and somewhat melancholy feelings about Brooklyn," he said, "not so much because of the place but because of what I was experiencing there. It was kind of a down period for me."
The other notable cover is "Strawberry Fields," which Kauflin plays with the group, then again on solo piano as a kind of epilogue to the whole album.
"I always do at least one Beatles cover at every gig," he said, "and I've been playing that song for the last few years. I've always liked how it evolves, but what really made me fall in love with it was hearing John Lennon's demo track for the first time. Without the bass, I heard the chords differently. It also felt like the perfect match for the record because I wanted to explore all these different places. For Lennon, it was a place he'd go to in his mind when he wanted to escape. I also read that when he was writing it he felt like he was experiencing the world differently from the way the people around him were, and I thought wow—that reflects my own experience."
Beyond the presence of "Strawberry Fields" is a more pervasive influence of the Beatles on the record. "I love the approach they took in later years, using tools of the studio to tell a more compelling story than they could tell simply by producing what you could experience live. Coming Home is really just my trio, with the addition of Alan on guitar, but it feels much richer than that."
The CD features Corey Fonville on drums and percussion, and Chris Smith on acoustic and electric bass, in addition to Alan Parker on acoustic and electric guitar, and Kauflin on piano and keyboards.
Kauflin was in California when I spoke with him, but on Oct. 31 he'll host a CD release party at Tin Pan in Richmond. For more information on the event and the CD visit justinkauflin.com.