Weedie Braimah taps into the African sound in New Orleans with his debut album, The Hands of Time
"I'm an African American. I'm a Black American. I eat grits. So, I connect with Congo Square."
Spoken in a sample by the acclaimed African percussionist Nana Kimati Dinizulu, these words introduce the journey of djembefola (or djembe player) Weedie Braimah's Grammy-nominated debut album The Hands of Time. From the beginning of the record, the drums take the listener from Africa to New Orleans, then project their sounds into the future and the world at large.
Dinizulu's words strike a powerful chord with Braimah, a New Orleans resident who was born in Ghana, but has extensive roots in the Crescent City on his mother's side of the family. "I had to find a way to connect this music to one of most African-centered places within the Americas," Braimah explained. "You're dealing with certain musics, certain rhythms, and certain instrumentations coming from Africa, that [are] in America. But one of the places that you know for a fact that is still alive, that you can see this culture still cooking and staying strong, is in New Orleans. You can hear it in Congo Square."
As the rhythms on the opening track "Full Circle" increase in intensity and volume, creating a voyeur of the listener as they're pulled into Braimah's world, three speaking voices emerge to provide a cultural roadmap setting the record's tone. In addition to Dinizulu's, there is a sample from Michael Babatunde Olatunji, the Nigerian percussionist whose 1960 album Drums of Passion is widely-regarded as the first recording to popularize African music in the West. "Frances Beybey," Olatunji says, "a noted African musicologist, said about the drum, 'it's an instrument that expresses our inner feelings…'"
Then, after Dinizulu brings the narrative to Congo Square, spotlighting the inextricable intersections between Africa and New Orleans, the opening trinity of spoken word is completed by Braimah's father—Oscar Sulley Braimah—also a legendary African percussionist and composer, speaking in pidgin on his own first record made in the United States.
"Those three were musicians and drummers who changed the way people looked at folkloric music in a modern context," the younger Braimah said, emphasizing that he wanted to be clear from the beginning that the album was far more than just another drum record. "I really wanted [the listener] to see the importance of Africa, of folkloric drums that are played throughout Africa, and drums being the voice of the music, as well as the connection and the continuum of African drumming that is within this country…and the place is New Orleans."
Djembefola Meets Jazz Drummer : A Love Story
In Uptown New Orleans, Braimah's maternal grandfather Nathaniel Weedy Morris was one of ten siblings—five of whom were drummers, including Nathaniel and his brother Leo, better known today as jazz drumming legend Idris Muhammed. (Though today, Braimah notes that he, like a growing cadre of others, prefers to use the term "Black American Music," or "BAM," to jazz.)
When Braimah's mother Ann was a child in the 1960s, her father caught her playing his drum set—despite his prior warnings to treat the instrument with the utmost respect. "If they were just playing the instrument just to play, and not to be serious about it, he would give them a spanking," Braimah recalled his mother telling him of his grandfather. On that day that Nathaniel caught her, though, Ann was "really doing it, from the foot motion to the finger motion of how the stick should be for the ride cymbal, for the high hat. And he was in awe."
Ann assumed she was in trouble for playing her father's drums—instead, her father encouraged her to continue, emphasizing that if she really wanted to play drums, it would require immeasurable dedication. "That's when she got deep into playing and getting into that world of playing drums … she had to be around eleven or twelve," Braimah said. "She wanted to do it more than anything. And she never looked back."
This was true, except for a brief time after her father passed away on Christmas Day 1979. Devastated, "my mother didn't play for a year," said Braimah. Then living with her family in East St. Louis, it was during this period of mourning that Ann met Braimah's father, the Ghanaian percussionist and composer Oscar Sulley Braimah.
It started when the pianist at the family's Catholic Church approached Ann's mother after Mass one Sunday, asking how Ann was. "Ann ain't doing good," was the response. The pianist replied, "Well, tell Ann I need her help."
She explained there was a man coming to East St. Louis to teach African music to the now-legendary Lincoln High School Jazz Band, led at the time by band director Ron Carter. "So, this guy was there to teach African music through jazz, right?" Braimah recalled of the story. "He was writing all these complex parts. And everybody just had their hand on their head like, 'Dang, how are we gonna play all this stuff in the groove?' The drummers was having a problem."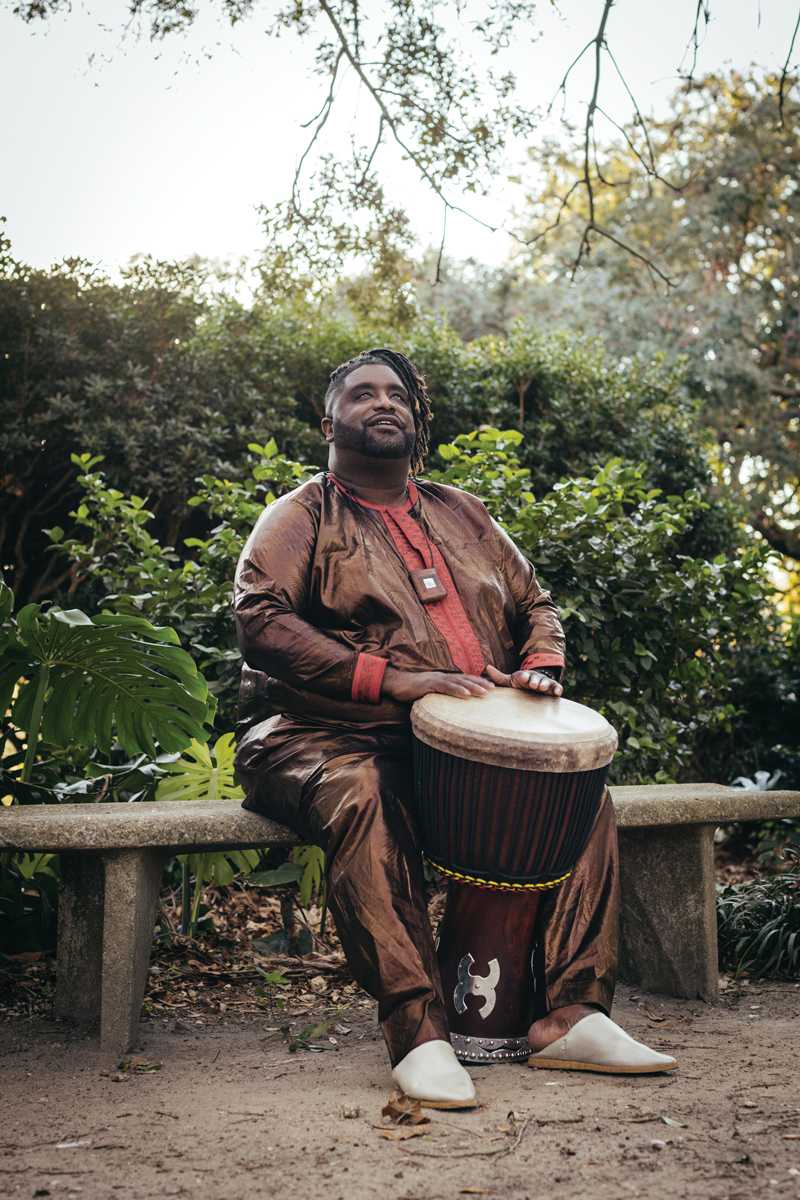 The pianist believed Ann might be able to bridge the gap in rhythmic understanding. Braimah said his father asked, in his Ghanaian accent, "Where's the guy who's gonna work with the drummers?" When Ann walked through the door, Oscar exclaimed: "She?! Woman?!" Ann proceeded to expertly show the band's young percussionists how to play the drum parts correctly, transforming Oscar's shock into awe. "His mouth dropped," Braimah said of his father, who proceeded to ask his mother: "Where are you from? No, no, no, you're not natural." The pair proceeded to talk in-depth about Ann's family history in New Orleans. Oscar was intrigued, having only heard of New Orleans—he was under the impression it must be a country in Africa.
"The love that my dad and my mother had was very unique. It wasn't like the regular love that you have in a relationship … It was truly about the music," Braimah explained. "So, they became close. The music locked them harder into each other."
The pair formed a band called Bontuku, which combined African music, folkloric music, funk, and improvisational music together as fusion. "This was the first band like that in America," Braimah asserted, specifying that the music his parents created was distinctly different than the Afrobeat or Highlife bands in the United States. "But what this man did for this music has never, to this day, been done. I would even say I'm still trying to do what my dad did, and what my mother did. I'm trying."
Growing up with Bontuku
As a toddler, Braimah was often present at Bontuku's rehearsals. "Those were some of the best musical memories of my life," he recalled fondly. Drumming was second nature to him, but it particularly took his parents by surprise when he would correct other musicians, like the horn players, about their parts. At first, they simply thought it was cute, "Until [my dad] would say, 'Wait a minute, wait a minute…they're wrong. He's telling them the right lick! Ann, listen! He's telling them the right key and how to play it! Listen to his voice!'" Braimah said. "It tripped my mother and my dad out."
To this day, Braimah harkens back to those early childhood experiences, and incorporates them into his approach to playing and writing music. "As an adult, we gotta play it because we don't wanna be laughed at or looked upon a certain way by our counterparts," Braimah said. "As a child, we don't care about that, we'll turn it into a game."
Because he grew up immersed in such complex international music from a young age, the fusions continue to come naturally to Braimah. "Because I lived it, loved it, ate it, breathed it, used the toilet with it, it was all of me," he said. "And that's why I was able to continue that, and we're able to continue that." He remembers the way his father wouldn't have to notate his music with pen and paper, but instead, "This man could breathe it out. Without sweating," Braimah marveled.
Making The Hands of Time
While Braimah wrote the majority of The Hands of Time himself (using voice memos on his phone, he said), he is quick to emphasize the massive contributions of his bandmates and collaborators on the album. "Of course, I had cats that was like 'Yo man, that's killin'—what if we add this part?' … I'm nothing without my band. I'm nothing without them. And they're a bunch of brilliant musicians."
Besides the regular members of The Hands of Time, a slew of other powerhouse musicians from around the world are featured on the album. Elements were recorded in Mali, Ghana, Paris, Cuba, Los Angeles, and of course New Orleans, where Keenan McRae's Artisound Productions served as the studio home base. "It's just an all-star cast of musicians that you just wouldn't find together, that finally got to play together," Braimah marveled. "I used to wish as a kid that something like this would happen, not knowing I would do it."
As for the New Orleans contingent of "all-stars," The Hands of Time features Troy "Trombone Shorty" Andrews on the song "Back to Forward (An Ode to Bontuku)," Tarriona "Tank" Ball of Tank and the Bangas on the song "Send for Me," and trumpet player Christian Scott aTunde Adjuah on multiple tracks, including his prolific solo on "Sackodougou," which earned him a 2022 Grammy nomination for Best Improvised Jazz Solo.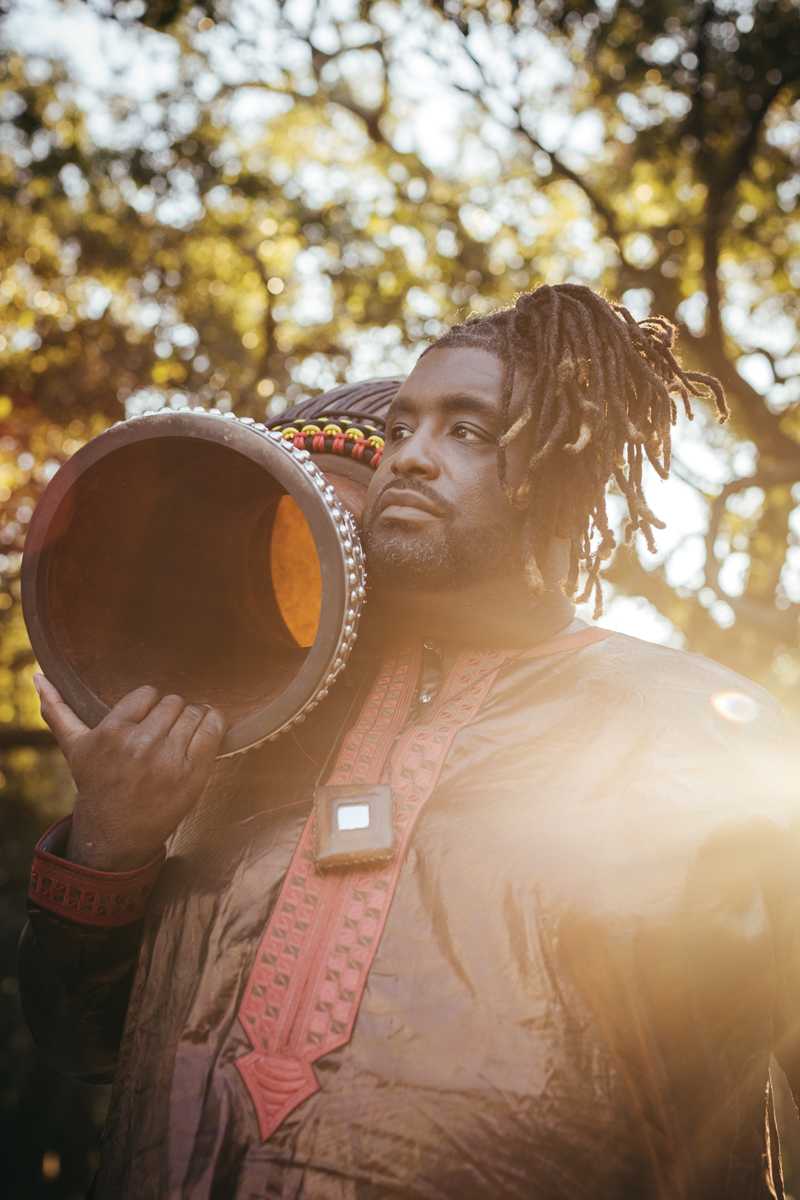 Besides musical prowess, Braimah said that the commonality connecting each of these featured artists from around the world is a background in folklore culture. "Whether it was second line culture, Black Indigenous culture, African culture, Afro-Cuban culture, BAM culture—they grew up in it, they didn't just play it, they grew up in it," he said. In fact, Scott aTunde Adjuah masked with the Black Masking Indian or Mardi Gras Indian tribe Congo Nation—the same tribe Braimah's great uncle Idris Muhammed masked with. "And that's what makes me and Christian brothers," Braimah said. "It's a pretty strong connection for us, for a very long time."
Braimah's connection to Ball, who he met for the first time in the studio making the album, came as much more of a surprise. "That sister there was—" Braimah cut himself off with a whistle, indicating reverence beyond words. "I had to leave the studio so many times from crying, because of how she just brought [my mother] to life."
The track featuring Ball's vocals, "Send for Me," directly follows the song "When Clouds Kissed 2/5/15," which is about Braimah's mother, its title referencing the date of her death, after which Braimah moved from East St. Louis to New Orleans to reconnect with his roots. "What you heard on that album, in 'Send for Me,' wasn't even Tank. I can honestly say with everything in my spirit and body that I can muster up: that was my mother," Braimah said. "And she brought her to life. I saw her, like, it was creepy. And I'm not saying that for comments, likes, or applause—I'm saying that sister knows how to conjure spirit. She has something. I've only seen that in Africa. But it makes sense, because Africa is in New Orleans."
A New Age for African Folkloric Music
Braimah's band, The Hands of Time—which the album is named for, in the style of Babatunde Olatunji's record Drums of Passion being pulled from his band's name—brings to the musical table a variety of backgrounds and influences as diverse as Braimah's own. "Because the music is what it is, I couldn't just get the baddest cats, because the baddest cats can't play what I'm doing," Braimah said. "I had to get the baddest cats who understand both vernaculars to play what I'm doing."
He stressed that his primary bandmates and collaborators had to have a strong background of listening to and loving African music like that of Fela Kuti, Ali Farka Touré, and Braimah's father Oscar Sulley Braimah; as well as Afro-Cuban music like that of pioneering pianist Chucho Valdés; and also music by BAM or jazz artists like John Coltrane, Miles Davis, and McCoy Tyner. "If you know one, cool. If you know the other, cool. But unless you grew up playing, listening to that, and understanding the hip hop era where I grew up? You won't get it," Braimah said, clarifying that he says this not to be exclusionary, but because it's a simple fact of what it takes to understand and play his music. "It's the truth of what it is."
Among these well-rounded baddest of cats in Braimah's band and on the album is Sam Dickey, who Braimah describes as a "white guy from Redding, California" who—perhaps unexpectedly—plays the ngoni: a traditional guitar-like stringed instrument from Mali. "I say this with everything in my life: I've never met a human being outside of Mali that can play djeli ngoni like him," Braimah said of Dickey. "I would put every dollar in my account on him." On The Hands of Time, Dickey alternates between playing the ngoni and electric guitar. Lebanese guitarist Raja Kassis also plays electric guitar in the band and on the record.
The Hands of Time even utilizes special percussion kits original to the band. Band member and featured artist Munir Zakee created the sangban set, which consists of four different sangbans (another hand drum in the djembe orchestra of instruments), a log drum, a kick drum, a snare, and a stack cymbal (which has a similar effect to a high hat). Band member Luke Quaranta plays an original kit called a dununba set, which is a dunun hand drum and a kick drum atop a pair of bongos combined with a pandeiro (a tune-able tamborine-like Brazilian instrument) on a stand. "So, when you see it, it looks like, 'What the hell is this?' … The look of it is very unique, very different, and very indigenous to this project," Braimah said. "So, all of these drums, when played together, create their own melody, and a melody and groove within itself."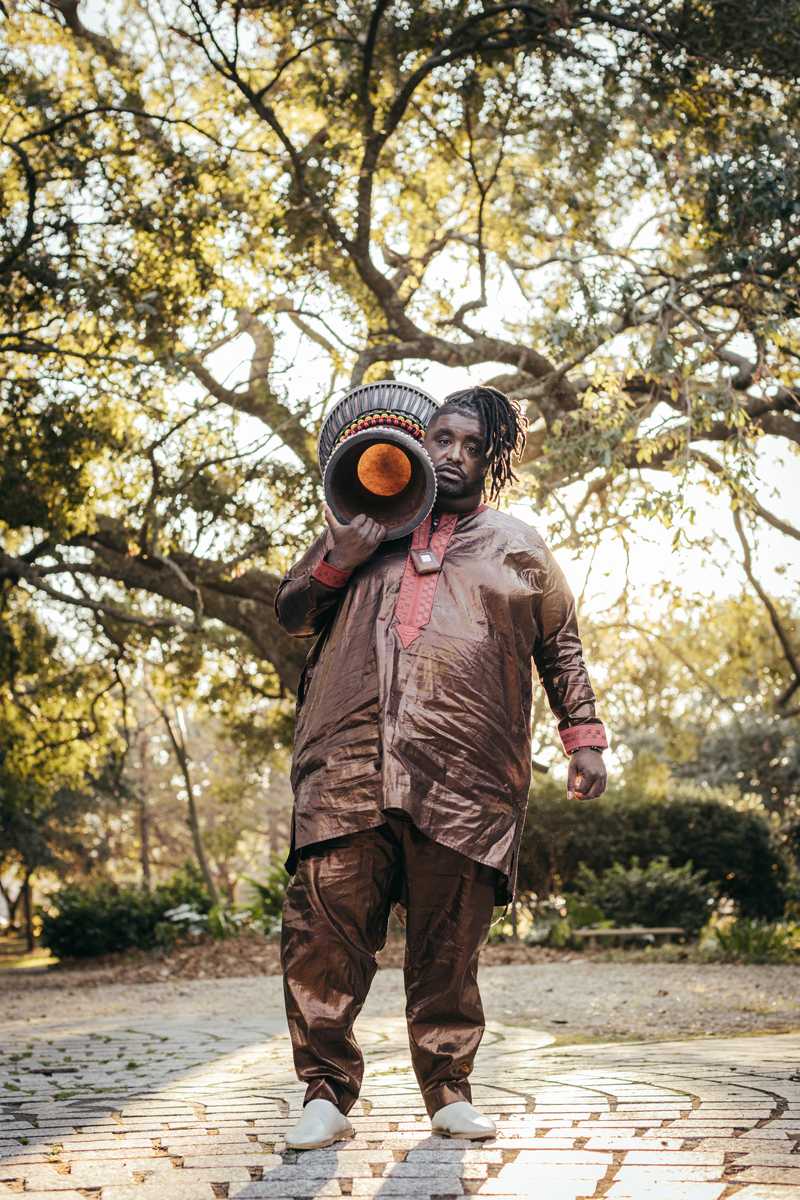 The lineup of instruments swings like a pendulum from the folkloric traditions of African and Latin American countries to the contemporary instruments more common of the West: electric guitar, electric bass, and synthesizers sing in harmony with folkloric instruments like the djembe, ngoni, kora (a long-necked string instrument from West Africa), and balafon (a West African xylophone-like instrument made of gourds). "All these instruments were in the cultures I grew up in," said Braimah. "What you're seeing is my life. You're not hearing—you're seeing my life, through your ears."
Braimah's intent is that by recontextualizing these folkloric instruments in a contemporary way, he might open doors for other musicians playing those instruments to get more work in a variety of genres. By utilizing folkloric African instruments on an album that is far from exclusively African in sound and influence, he hopes people will perceive these instruments in a broader light.
"The idea is to take these folkloric instruments and have them considered an instrument—not an African instrument. That's my dream: my dream is to reel the person in, so that when I do present this folkloric type music, it's this new age of folkloric music," Braimah said. "So, these young boys or young girls that are playing this folkloric music, if they want to get a scholarship to go to Berkeley as a djembefola, it can happen."